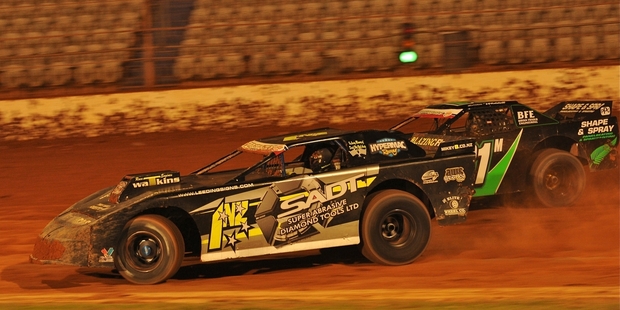 Super saloon car national champion Mark Osborne scored a second big success at his newly-adopted home track on Saturday by winning Baypark Speedway's round of the touring Burger King Pro Dirt series.
Osborne completed a lap 12 pass on Tauranga's Dean Waddell to win the 25-lapper as Baypark-contracted drivers swept the podium with Tauranga's Gavin Dyer achieving an impressive third place.
Christchurch-based Osborne moved his racing campaign to the North Island in December and produced his first Baypark success when he won the NZ Grand Prix on December 27.
The quality Super Saloon grid delivered the highlight of Saturday's racing, handling the rough track better than the lightweight sprint cars that were battling for North Island Championship honours.
Waddell earned pole position for the final when he began the pole-shuffle eliminations in sixth position and duelled his way past five challengers.
Dyer was the number two qualifier ahead of Osborne and Waihi racer Mark Hutchins who raced strongly in the heat races.
Broken front suspension which left series front runner Ben Harding (Auckland) stranded after four laps was the only interruption to the 25-lapper. Waddell gained the early lead and Osborne slipped back a couple of spots before finding an inside line into second on lap two.
"We had a good car all night. We didn't go out too tight in the first race like a lot of guys," said Osborne.
"At the start I lost a couple of places but I got back into second and that put Dean in my sights.
"After that it was waiting to see if he made a mistake. When he drifted wide I was able to get underneath him."
Osborne said the rough track and the long green flag run was a challenge.
"It was tough just turning the car. You're racing against the track as well as the other drivers."
Waddell retained second spot for a result that lifts him to second in the series with four of the seven rounds completed. Osborne's series tally of two seconds, a sixth and his Baypark win consolidates his lead.
Dyer chased the leaders throughout to finish a rewarding third.
"I'm really happy to get it together for all three races," he said.
"I've had some good heat races this year and then blown some features."
The big mover was Thames racer Matt Smith who started from grid 20 after breaking his suspension in the first race. He missed his second heat race making repairs but flew in the feature using the outside line to full effect in the early part of his charge through the pack to finish fourth.
Youth just edged out experience in the North Island Sprint Car title with 17-year-old Wellington racer Stephen Taylor taking a narrow win over former national champion Dean Brindle (Hamilton).
It was the first major title win for second-year racer Taylor who put in a spectacular wheel-standing drive and almost threw way his lead just before the finish, allowing Brindle to close in after starting back on grid 12 because of a power steering failure in his second heat race.
"I hit a rut that hooked me onto the grass and I was just able to save it," said Taylor.
"The track was very rutty and quite testing. The main thing was to compromise on a good line."
The race was interrupted by numerous cautions but Taylor said the stop-start nature of the race didn't cause him any concerns.
Those incidents brought the race to a finish with 22 of the scheduled 25 laps completed.
A first lap crash took Midget Car national champion Michael Pickens out of the action and an early multi-car pile-up eliminated Baypark racers Skinny Colson and Colin Entwisle and Aucklander Jamie McDonald.
National champion Rodney Wood (Tauranga) looked in a strong position with a front row start but he ran wide early on losing four positions and never challenged the leaders again to finish fourth behind defending North Island champ Daniel Eggleton (Auckland).
Tauranga's Steve Cowling came within 0.14secs of a perfect night in the Saloon car racing. He won the opening heat race and was pipped by fractions in heat two by Daniel Corrin (Gisborne).
Cowling dominated the feature race, passing Tirau's Michelle Wymer on the opening lap and finishing 6secs clear of Corrin.
BAYPARK SPEEDWAY
Saloon Cars: Heat 1: 1 Steve Cowling 271m; 2 Daniel Corrin 274m; 3 Tony Heuvel 51m. Heat 2: 1 Corrin; 2 Steve Cowling; 3 Michelle Wymer 75m. Feature: 1 Steve Cowling; 2 Corrin; 3 Chris Cowling 1nz.
Youth Mini Stocks: Heat 1: 1 Sam Waddell 81m; 2 Luke Alderdice 77m; 3 Hayden Greenhalgh 8m. Heat 2: 1 Trent Amrein 42m; 2 Waddell; 3 Mitch Holton 21m.
Super Saloons - Burger King Pro Dirt Series Round 4: Heat 1: 1 Donald Gregory 21w; 2 Mark Osborne 1nz; 3 Mark Pitcher 9w. Heat 2: 1 Steve Flynn 3nz; 2 Gavin Dyer 88m; 3 Kristin Vermeulen 12m. Heat 3: 1 Russell Donovan 71m; 2 Dean Waddell 81m; 3 Grant Flynn 6b. Heat 4: 1 Mark Hutchins 53m; 2 Ben Harding 24a; 3 Dyer. Feature: 1 Osborne; 2 Waddell; 3 Dyer; 4 Matt Smith 46m; 5 Steve Flynn; 6 Grant Flynn.
Sprint Cars - North Island Championship: Heat 1: 1 Keaton Dahm 88m; 2 Michael Pickens 54a; 3 Dean Brindle 2nz. Heat 2: 1 Skinny Colson 66m; 2 Daniel Eggleton 78a; 3 Rodney Wood 1nz. Heat 3: 1 James Dahm 6m; 2 Stephen Taylor 21w; 3 Eggleton. Heat 4: 1 Wood; 2 Jamie McDonald 3nz; 3 Pickens. Feature: 1 Taylor; 2 Brindle; 3 Eggleton; 4 Daniel Thomas 55a; 5 Wood; 6 James Dahm.