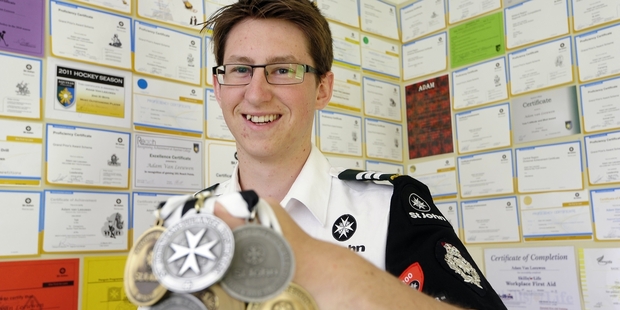 Treating mock bush fire burn victims earned a Tauranga youth and his team the top place in an international St John competition.
Adam Van Leeuwen, a St John cadet of the Welcome Bay youth division, travelled to Sydney earlier this month to compete against teams from 11 countries at the International Cadets Competitions.
Mr Van Leeuwen, 17, and the other three members of the New Zealand team were the overall winners of the competition after taking out first place in pairs CPR, pairs trauma and the individual drill, second place for the team nursing test and third in public relations.
"In about September I got an email out of the blue saying I've been shortlisted for the team, it hadn't even crossed my mind to enter. I had to go and have an interview, then a couple of weeks later I got an email offering me a spot in the team. I was blown away by that."
Mr Van Leeuwen said he had two training sessions with his team members before heading overseas.
"The first time we were in a room together was at our first training session. We clicked as a team, the same mindset and same ideas towards the goal in the end."
From there, it was off to Sydney on January 2 before competing on January 6. Before their competition, Mr Van Leeuwen said his team was able to watch the Australian national competition and how they interacted with their patients.
"I believe that in itself was a huge help to us, seeing how they did it. You can read books but actually seeing someone do it is another thing in itself."
As part of the competition, the youth teams were given a scenario where they were a part of a bush fire rescue centre. Mr Van Leeuwen said he and his team had to treat a burn victim as well as patients with bed sores, someone who went into diabetic shock and another with fractured arms.
Mr Van Leeuwen was chosen to do his team's presentation and did a report on New Zealand, how young people lived their lives and how St John influenced the communities.
"It was good for me to learn about the country, I loved it."
He said he was proud of his team's achievement.
Mr Van Leeuwen is about to start his final year at Aquinas College. From there, he planned to study paramedicine with hopes of becoming an advanced paramedic.
"I've been in the cadets for about 10 years. The first night I went, I really loved it and have stuck with it ever since.
"It's not a hobby, it's my life. It revolves around St John Youth."