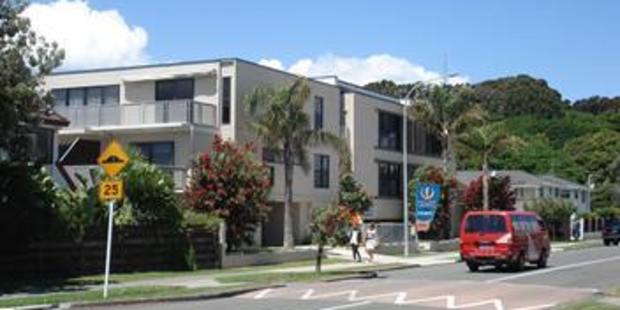 One of Tauranga's most expensive "luxury" rental properties may be more affordable than it sounds.
The $720-a-week furnished apartment in Maunganui Rd's Atlas Apartment complex boasts three bedrooms, two bathrooms, a large, sunny outdoor deck and is in an "ideal location" close to beaches, hot pools and restaurants.
It features a fully-equipped kitchen, flat-screen TV, digital Sky connection, two secure parking spaces, linen provided and a once-a-week cleaner.
The property, currently listed on Trade Me as one of Tauranga's priciest rentals, is aimed at "quiet, considerate non-smokers", preferably looking to rent for more than six months.
Apartment complex manager Robyn Milson said the property had received "heaps" of enquiries and was popular with seasonal workers.
"Because when there's six of them in the apartment it doesn't work out too much."
The large apartment was more like a three-bedroom house, she said.
"They get a service once a week; it's virtually like the housework's done, their beds are changed."
Meanwhile, Tauranga's most expensive rental in Mt Maunganui, at $1000 per week, is a three-bedroom, two-bathroom modern stylish home featuring beach-front views with a large deck and double garage.
At the other end of the scale, Tauranga's cheapest current rental listing, in Shelley St, Otumoetai, is advertised for a mere $165 a week.
The one-bedroom unit with one bathroom is a small basement flat beneath the owner's house, with a "nice, small lawn area and carport, which would suit a "mature single only".
The Western Bay region's cheapest rental listed on Trade Me is a one-bedroom unit in Maketu advertised for $100 a week. No details were available.
The most expensive, at $3325 a week, is a spacious seaside Waihi Beach holiday home.
The advertised two-storey property boasts three double bedrooms upstairs and a self-contained two-bedroom flat downstairs,
Earlier this month the Bay of Plenty Times revealed Trade Me Property figures showing the average asking rent in Western Bay and Tauranga rose to $405 a week in the three months to December, up 18 per cent on the same period in 2012.
Coupled with rising prices, the supply of rental listings dropped 18 per cent, with rental agents reporting tenants offering higher than advertised prices to secure accommodation, or taking properties sight unseen.
The average rent nationwide was $422, up 6 per cent from 2012.
Meanwhile, the country's cheapest Trade Me rental is a one-bedroom property in Woodville for just $65 a week. The semi-detached unit features a carport, lawn and shared laundry.
Unsurprisingly, the nation's most expensive rental is a sprawling four-bedroom, four-bathroom house in Auckland's Takapuna, listed for $6875 a week.
It features three reception areas, wine cellar and bar, park-like grounds, a swimming pool and barbecue/outdoor dining area looking north over Takapuna Beach and out to Rangitoto through pohutukawa trees.