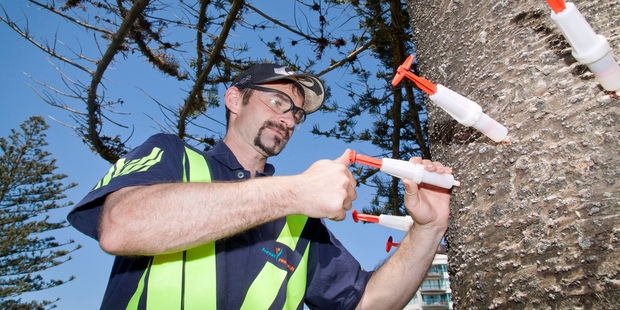 Norfolk pines along Mount Maunganui's showcase shorelines appear to be holding out against the ravages of a potentially deadly pathogen.
Three months after pioneering experimental treatment was administered by Crown research institute Scion, the trees appear to be no worse, and no better, than when phosphite was administered in October.
Scion was brought in to investigate why some trees lining Pilot Bay and Marine Parade were not recovering as well as others from the effects of last summer's drought.
Tauranga City Council arborist Richard Conning said Scion assessed the trees last week and, although a full analysis had not been finished from the before and after photos, there appeared to be little change.
"The majority are in a holding pattern. By the sound of it, they have not gone backwards."
Mr Conning said while this was not unexpected, he regarded it as a good result given the short time since the treatment.
The pines had been helped by a reasonably kind summer, and only two trees that were already in poor health at the start of the trial were threatened with felling.
He said these two pines appeared to have gone back a bit, although their fate awaited confirmation of the results of the trial.
The council would wait until the end of the summer if it decided to fell and replace the trees.
Scion found that various pathogens had attacked the Norfolk pines in their weakened drought state, with phytophthora multivora topping the list.
Scientists chose a treatment normally administered to avocado trees.
Twenty-one Norfolk pines, including control trees, were picked for the trial which has another 15 months to run.
Mr Conning said the use of phosphite was a bit of an unknown because it was the first time the treatment had been used on sick Norfolk pines.
He said phosphite could show rapid results on avocado trees, although they were a faster-growing subtropical species.
About 80 per cent of the pines along The Mall and Marine Parade showed some signs of stress after the drought.
Mr Conning said smaller trees that looked sick were showing new growth, indicating that the problem was the drought rather than disease.