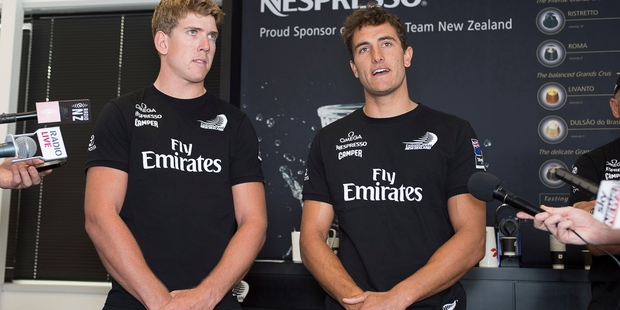 Tauranga's Peter Burling will be given every opportunity to show his skills as a skipper with Emirates Team New Zealand at the Extreme 40 circuit this year.
The first regatta will be held next month and Dean Barker says the team need to start developing the sailing team for the 35th America's Cup while integrating Burling and Blair Tuke into the squad.
"We can't wait around until Oracle releases the Protocol for the 35th America's Cup," Barker said. "We need to keep developing and take every available opportunity to compete in cats."
Barker said he had discussed Burling's Olympic 49er campaign commitments and it seemed he would be available for three of the eight regattas.
"I will skipper five. We will rotate sailing squad members through the other crew positions. Between the two of us we will be able to field competitive crews through the year."
Barker will be at the helm at the first two regattas - Singapore next month and Muscat, Oman, in March. Burling takes over for the following two regattas - China in May and Russia in June.
The remaining regattas have yet to be finalised.
The team competed on the circuit in 2011 - an unforgiving introduction to the world of top-level multihull racing. "Extreme 40 racing is unlike any other," Barker said. "The teams are very competitive, races are short, the action non-stop and split-second decisions are needed."
Racing takes place over four days at each event, with one day of open water racing followed by three days of stadium racing. If the breeze is favourable, eight to 10 races can be held each day.
Barker's first Extreme 40 event was the last regatta of the 2010 series.
"It was at Almeria, Spain, and we were last."
But they learned what they had to do to become competitive in multihulls, a big step towards the 34th America's Cup.
Barker and his crew soon had the measure of the boat and the opposing teams in the 2011 circuit and the crew improved with every regatta, winning the Boston event in May.
Then AC45 training became the priority and the team used the Extreme 40 series to give the rest of the sailing crew valuable multihull experience.
Burling and Tuke sailed in three Extreme 40 regattas last year before switching their focus to the AC45. This year their Olympic campaign will take priority but they aim to make their mark in the Extreme 40s.