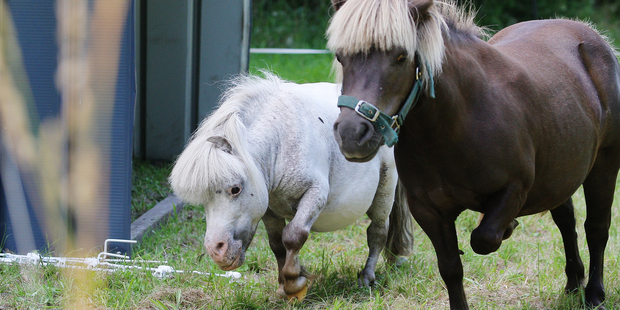 A rare dwarfed miniature horse, thought to be one of the smallest of its kind in New Zealand, is in need of a new home in the Bay.
Horse owner Rosemary Sinclaire is looking for a new home, but one where she can take Tonto and his paddock-pal Betty.
Eight-year-old Tonto measures 58cm and is 34cm shorter than his companion Betty.
"I will have to move and I would like somewhere with grazing, somewhere for the two horses, dogs and I."
She said she took on the pair of horses after they arrived at the Historic Village two years ago. "I wanted to give them a better life than what I figured they had had."
She said the ponies had come from the circus and were probably not looked after as well as they could be, especially Tonto.
"I think because of his size and his proportions, he was considered a freak of nature, but he's not."
Ms Sinclaire said the two were quite dependent on each other. "If I lead one away from the other, they will call out to each other."
However, a new horse has been added to the mix and Tonto has put his foot down. "He's a stallion, he's trying to protect his territory, which is Betty, and every time he sets eyes on this other horse, he tries to kick out.
"In his brain, he is a full-sized stallion, he would just follow Betty anywhere. I don't know how long they have been together, but I imagine it's quite a while."
Ms Sinclaire said Tonto was born to miniature parents and was lucky to survive as long as he had. "He's about the size of a fat sheep, he's got big knees, and a very short neck."