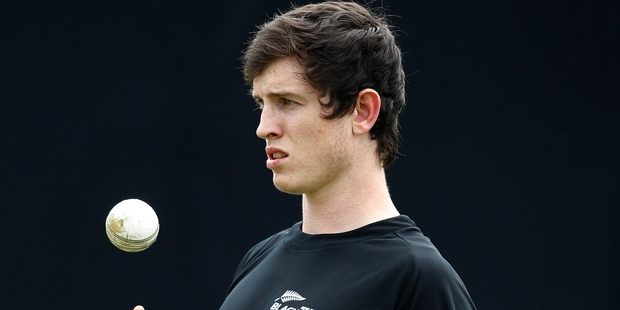 Since whistling the ball past West Indian bats at Eden Park five days ago, Adam Milne has been the talk of New Zealand cricket.
The debate on whether to rush him into the test team to play India has generated almost as much heat as the 21-year-old from Palmerston North rustled up on the park on Saturday.
New Zealand don't have a strong belief in thrusting young players into the test team, certainly nothing to compare with, say, Pakistan and other sub-continental countries where an attitude of "if he's good enough, he's old enough" applies.
Sure, Dan Vettori, Martin Crowe, Ken Rutherford, Tim Southee and, from earlier generations, Martin Donnelly, John Beck, Vic Pollard, Graeme Vivian and Brendon Bracewell were given their first cap before turning 20. But they were exceptions.
Milne made his debut at 18 against Pakistan in 2010.
It wasn't a success, but last Saturday, as he clicked over 150km/h, it was possible to see fresh, cheering possibilities for New Zealand.
The ODI squad to face India will be named today. There's no question Milne will be in. How well he performs may have a baring on his test chances, but the odds are that he won't be pushed too far too quickly.
"Yeah, I was pretty stoked with it," Milne said of his sizzling display at Eden Park. "I guess I was pretty happy to see some fast balls in there, but it's not everything I guess."
Milne reckons he has bowled faster at other times in his still fledgling career, "but it feels pretty good at the moment".
He feels more comfortable in the national team setup than in his early days, which is understandable. And he realises he needs to have decent control allied to his pace - "if you bowl in the wrong areas it's going to go the distance".
He has no regrets at being thrust in early. Before Saturday, Milne had taken just two wickets in 10 limited-overs internationals, but lessons have been learnt.
"It helped me a lot in producing what I've become today and hopefully what I will become in the future," he said.
Milne is eyeing 160km/h, but acknowledged exactly how fast he can go is "the million dollar question".
"I'm not sure that's in my realm, but I'd love to get to 160."
West Indian captain Dwayne Bravo yesterday echoed the remarks of India's captain MS Dhoni on Monday, when asked about facing someone capable of exceeding 150km/h.
"It's something we're used to," Bravo said. "It's normal for us, nothing we're not used to. In this format pace doesn't really matter, it's more skill, so let's see how he goes (today)."
The West Indies need to win tonight to level the series, the same scenario they faced in the fifth and final ODI at Hamilton last week, when they ran up their highest ODI total.
"It's in our nature more often than not we respond well under pressure. We need one more big effort," Bravo said.