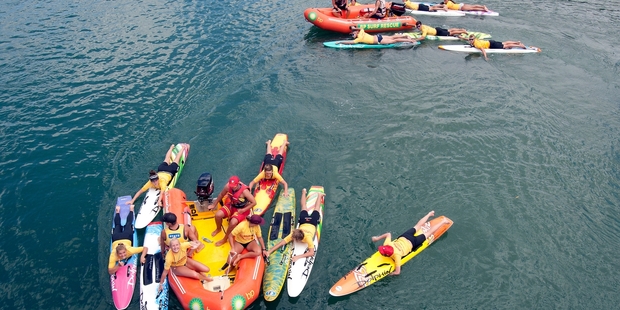 Perry Farrell and Jessica Miller defended their Bridge to Bridge titles in quick time on Saturday with the freshening tide pushing them along.
Farrell won the men's race, that doubles as the Murray Dingle Memorial Swim, in 10m 22s with Miller home well ahead of the women's field in 10m 48s in the 1500m swim from the Harbour Bridge to the slipway just past the Matakana Rail Bridge.
Both swimmers love the event and were happy to win in a useful warm up to the much more arduous Round the Mount swim held yesterday.
Farrell was pleased to beat off the talented Kane Sefton and Mason Bryant into second and third, after tough surf lifesaving training before his swim.
"It is a real fun swim with the tide as well. It is a bit different and it is cool swimming somewhere different other than Pilot Bay," Farrell said.
Farrell and Miller both clinched the five-race Team Shorebreak Inc Ocean Series on Thursday, which is a notable achievement in the teenagers' swimming careers so far.
"It is such a good series and so much fun doing that. Sheryl [McLay] is awesome in running it so I am pretty rapt to win that."
Miller says Saturday's Bridge to Bridge was definitely a lot faster than last year as the tide was a lot stronger.
"You always drive over the Harbour Bridge and you look out and you kind of just see boats so it is pretty cool to swim from the bridge to bridge."