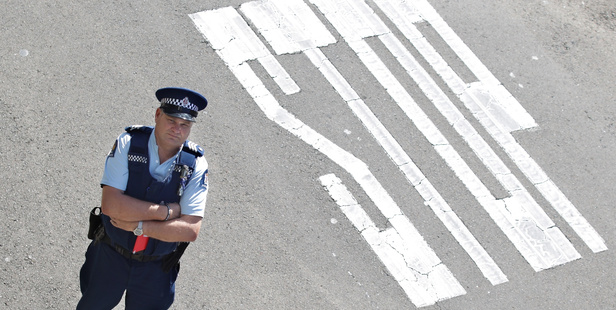 Tauranga drivers are supportive of a summer crackdown on speeding which will lead to fines for drivers travelling more than 4km/h above the legal limit, a local road cop says.
Police have previously lowered the speed tolerance from 10km/h to 4km/h at long weekends and public holidays, but the lower threshold has been in force for all of December and runs until the end of January.
If the 62-day trial is successful, it could mark the end of the 10km/h speed tolerance.
Tauranga road policing Sergeant Wayne Hunter said the lower tolerance had definitely slowed down Tauranga drivers.
And those who did get stung understood why the crackdown was necessary.
"It's only a $30 ticket ... it's not a revenue gathering exercise at all. It's not worth it.
"But it gets people to think, 'What if something had happened'.
"I say, 'If there's a child running out in front of you and you're doing 60km/h the chance of them surviving is not as great'. And they understand then."
A change in attitudes among younger Tauranga drivers also corresponded with a drop in young driver fatalities last year, he said.
"I can't remember the last time I stopped someone under the age of 18 who'd had any alcohol at all, it's quite unusual."
Last year's national road toll of 254 deaths was the lowest in 63 years.
There were 18 fatalities in the Bay of Plenty in 2013, compared with 23 the previous year.
A recent Herald-DigiPoll survey showed that two-thirds of respondents felt the low tolerance policy was fair because it was about safety.
Just 29 per cent said it was unfair and about raising revenue.
Assistant commissioner for road policing Dave Cliff said he was pleased with the show of support for the initiative. But police needed time to review the data once the trial was over before any decisions were made.
The Automobile Association has said that for the lower tolerance level to be successful it needed to be focused on trouble spots, not just motorways and passing lanes, and needed to be combined with highly visible enforcement.
But police want drivers to slow down everywhere.
"The way we target it at the moment is we focus on areas of greatest risk. But one of the really important things to remember is about half of the fatal crashes happen in locations where there's never been one before," Mr Cliff said.
"We want people to slow down everywhere, not just in locations where they think they might get caught."
December was the first time the low tolerance was introduced for the whole month, and with 23 fatalities it was also the lowest road toll for the period since 1965.
Meanwhile, last year saw a 38 per cent reduction in road deaths among 25-39 year olds.