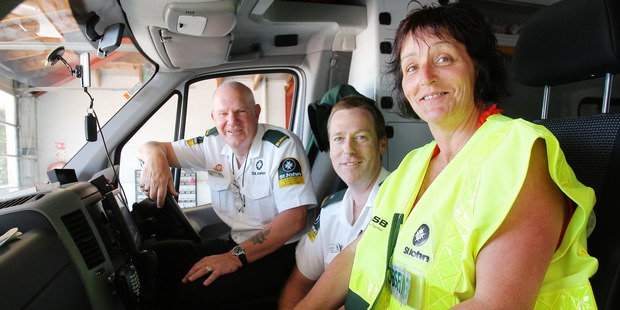 St John is short of ambulance crew to respond to emergencies in rural Western Bay communities and is struggling to recruit volunteers.
The organisation needs 20 volunteer assistant paramedics for rural areas.
"Volunteer recruitment is generally not too bad in our cities but, in rural areas, we are struggling a little bit," St John Western Bay of Plenty territory manager Ross Clarke said.
The service relied heavily on volunteers to crew ambulances.
"We need to raise awareness that it is a volunteer organisation and we are looking for suitable volunteers with a bit of time to give back to the community."
The organisation was even looking for people who could give as little as one or two days a week.
"What people don't know is that they can do courses and be trained up a level where they are comfortable. We don't want to push people beyond what they are comfortable doing."
Katikati ambulance driver Victor Holloway, 68, started volunteering three years ago when he moved to New Zealand from England. Being able to relieve people's stress in emergency situations was one of the highlights of the job, he said.
"Often when you turn up to a job, people are in a state of panic and distress but as soon as they see you come through the door with your uniform on and a bag, they are confident you can deal with the situation."
Mr Holloway enjoyed helping others in his community.
"My initial idea was to join and just drive the truck, carry the bags and help out, but you very quickly develop the interest in it."
He said he was encouraged to take the qualification which he found challenging initially.
"But it was intellectually stimulating and I felt a sense of achievement when I had finished it."
Mr Holloway urged others in Katikati, Te Puke and Omokoroa to volunteer for the organisation.
Omokoroa operations team leader Michelle Kirk has been volunteering for four years.
"I find it fascinating, you learn and you meet heaps of people along the way," she said.
"Every job you do is different, so you get different things out of each job.
"Just being able to do the best you can can for the people in your community."