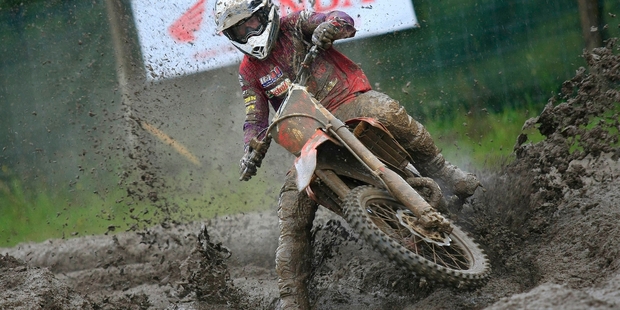 MUD LARK: Cody Cooper powers through the mud on his way to Summercross success on Sunday. PHOTOS/GREG HENDERSON PHOTOGRAPHY
Among the many motocross titles he has won, Cody Cooper could not remember a previous occasion when heading home in time for a late lunch with another trophy in the bag was an option.
The Papamoa-based national champion claimed the MX1 (450cc) honours at a rain-shortened Bay of Plenty Summercross near Matata on Sunday, extending his winning run since switching to Honda machines in November.
For the second year running the senior racing was staged in heavy rain at the Awakaponga track and after two races had been completed for each of the classes the event was called off.
Cooper splashed to victory in the first MX1 race with a 16secs margin over Kawasaki's Jesse Donnelly (Paraparaumu) and Brad Groombridge (Taupo) on a Suzuki.
The second moto wasn't anything like as straightforward for Cooper.
"I crashed in the second race and then I had to stop at the pits to get some new goggles.
But I got back into second and was able to win the overall."
Cooper said the conditions were difficult for riders, mechanics and fans.
"It really bucketed between our races and the ruts filled up with mud and water.
"You can't see how deep the ruts are so you are riding blind and can't get into a flow."
The Summercross success follows a Waikato Champs win and an unbeaten effort in the NZ Supercross series since Cooper signed on for the Honda Shop Racing squad run by former world champion Ben Townley.
Cooper is in the midst of pre-season training as he prepares for the NZ MX Grand Prix at Woodville in late-January and the four-round Nationals which start in February.
A strong field contested the MX2 (250cc) races with defending Summercross champ Rhys Carter (Mt Maunganui) riding his Suzuki to a clear win in the first moto ahead of national champ Scott Columb (Yamaha) of Queenstown.
Carter was leading again in race two but lost time with a spill with just over a lap to go. He recovered for second behind Columb and the pair finished level on points.
The tie-breaker was the result of the second moto which saw Columb take the overall win. Taupo's Nick Saunders (Kawasaki) was third overall.
The Youth MX class - a unique-to-Summercross category for 15-21-year-old riders - produced a commanding win for Te Puke teenager Logan Blackburn.
Blackburn switched from his usual Yamaha 125cc 2-stroke machine for a 4-stroke 250cc he'd ridden for the first time five days earlier. He found the 4-stroke power delivery well suited to the muddy conditions and won the first race by 59secs and controlled the second with a 7secs margin over Whangarei's Ryan Hoskins (Husqvarna).
Opunake's Taylar Rampton (Husqvarna) dominated the Women's MX racing with huge winning margins in both races while Veterans MX honours went to New Plymouth's Mitch Rowe (KTM) in the 45+ category and a determined ride to win the second moto saw Tauranga's Stacey Oldeman (Honda) win the 35-45 years division by a point from Te Puke's Dion Steiner (KTM).