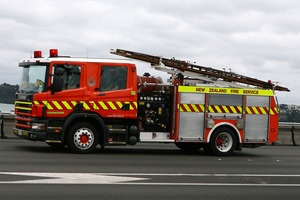 A tornado has blown through a popular beach resort outside Tauranga this morning, causing damage to house roofs.
High winds and driving rain have been battering Bay of Plenty today.
And shortly after 10am, Papamoa Beach was hit by a tornado that has damaged several properties. Fire Service appliances from Papamoa and Mount Maunganui have been called to the Wairakei Ave area after reports of weather-damage and flooding.
"I could not confirm whether a tornado has been responsible, but we are in attendance at several properties that have either sustained flooding or have had roofs lifted in the Papamoa area," a Fire Service spokesman told APNZ.
"We've only just arrived and started with salvage operations in the area."
There has been no reports of injuries.
One Wairakei Ave resident saw the tornado come through shortly after 10am.

"We didn't see a tornado ourselves, but it's been very high winds coming off the beach," her neighbour, who did not wish to be named, said.
"It ebbs and flows. It came on really fast for about 15 minutes, then eased, and everyone walked on to the street, and fire engines came, and then another lots of winds came through for ten minutes.
"I didn't really realise it was a tornado.
"The kids are a little bit shaken, the dog is shaking like a leaf."
- APNZ