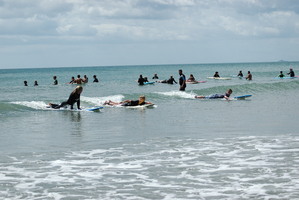 A shark sighting at Waihi Beach today may have been a "phantom'' and lifeguards decided to keep the busy beach open for the throng of holidaymakers.
Police said a 1.5 to 2 metre shark was seen heading north from Three Mile Creek, about 20 to 30 metres from the high tide mark.
Trust Waikato Waihi Beach Lifeguard Service patrol captain Eden Bray said the shark sighting was reported by a member of the public.
Lifeguards had not seen anything, despite carrying out searches 50 metres offshore, so there may not have been an actual shark.
"It may have been a shadow or something,'' she said.
"We sent the boat out just as a precautionary measure, but it was 5km away from the surf club and there weren't many people around.''
Lifeguards advised beachgoers of the sighting, but the patrol area was not closed down.
"People weren't worried just because it's a bit of a phantom,'' Ms Bray said.
There had been recent hype about sharks but sightings were not uncommon, she said.
"It happens at all beaches around New Zealand at this time of the year, so it's not out of the ordinary.''
Ms Bray said there had been 900 to 1000 people on the beach in recent days, despite the weather turning.
There could be more than that on the beach tomorrow - one of the biggest days of the year for surf life savers throughout the country.
Today's sighting comes after a ``little, wee'' one-metre shark was sighted on Christmas Eve, just outside the safe swim flags with five people, adults and children, swimming waist-deep nearby at the time.
A similar sighting is understood to have been made on Sunday.
- APNZ