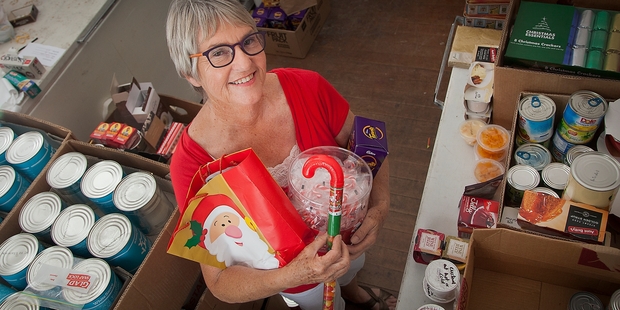 About 45 food parcels a day were given to needy families in the weeks leading up to Christmas.
Tauranga Foodbank is hoping the money and food raised by the Bay of Plenty Times Christmas Appeal will last until mid-next year after the best fundraising effort in memory, said manager Nicki Goodwin.
"It has been phenomenal, that's the only word I can think of to describe it," she said.
"The generosity of everyone from individuals, families, businesses, other community groups, it's just non-stop. None of us have ever seen anything like it."
Mrs Goodwin said the past three weeks had been "frantic but cool".
"We've been averaging about 45 parcels a day, and that's just the number of parcels, not the number of people we're feeding.
"That's about 159 people that have been fed for a few nights from our parcels, plus Christmas goodies."
Mrs Goodwin said one of the Foodbank volunteers, known as the Christmas Fairy, could now have a break after three weeks of packing food parcels.
Gillian Tustin, a volunteer at the organisation, was named the Christmas Fairy by other Foodbank volunteers after she worked full time for three weeks packing food and Christmas treats into food parcels.
"We try to give everybody a dessert, either a Christmas pudding or fruit, and something savoury like some nuts or popcorn or tins of biscuits that people have donated," Ms Tustin said.
She said she aimed to make sure every child had lollies or chocolate in the food parcel as a special Christmas treat.