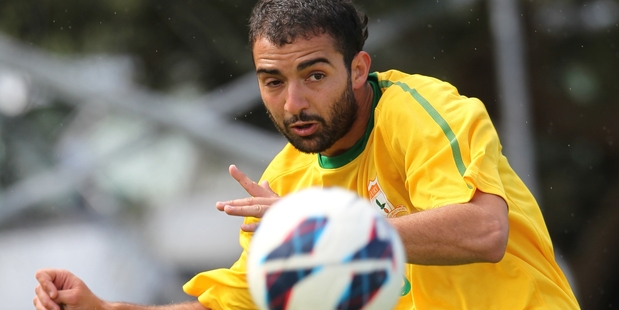 Christmas has come early for Papakura City FC at the expense of the AFC Fury.
The Te Puna-based club has been found by Auckland Football to have fielded an ineligible side in its Lotto NRFL entry playoff series win against the Auckland club in September-October.
The ruling means AFC Fury will not be promoted into the Northern Regional Football League Division Two competition containing Tauranga City United next season.
"Following the investigation it has been found AFC Fury fielded two ineligible players in the playoff tie under New Zealand Football and competition regulations," the competition's statement reads.
"As a result of the findings, Papakura City FC has been awarded the points from both legs of the tie and declared winners of the playoff series."
AFC Fury founder David Cook said an appeal would be lodged with New Zealand Football by the end of the month as part of a wider effort to have the regulations changed on behalf of all clubs.
He believed the protest process, in which authorities checked the origin of players using tools beyond the reach of the ordinary club, was a breach of natural justice.
Both parties need to have equal access to information in any dispute, he said, adding the regulation and subsequent lengthy investigation and penalty was more proof the Auckland and New Zealand football federations were behind the times.
"There's lots of people in important positions in New Zealand football, certainly in the Northern Region, that know nothing about the game," Cook said.
"What you have today is a group of people who are working with a regulation that was written three decades ago.
"I spoke to a lady that has been an administrator at New Zealand Football for years. I told her the whole thing should have been sorted by now and she said that we did not start playing until March.
"This is how much they know. If you think for one moment that you can organise in March and play in March then you're kidding yourself.
"You know nothing about football I'm afraid lady. You know nothing about football. And these people run our game."
Cook went on to say the two players deemed to be ineligible - Alejandro Ferrari and Nicholas Motaldo - who were both signed from Tauranga City United, were not of the calibre of player the rule was originally intended to prevent playing.
"Players don't necessarily mean to mislead. They are in the belief of what they are saying.
"We signed two players from Tauranga City United who came from overseas. They had not sought overseas clearance for them.
"These aren't great players - one of them didn't even play in the playoff game. He was just on the team card. We're not talking about a situation where you are trying to play top players to gain an advantage.
"Lots of them are no good. Even the ones that played for the Fury this past season were not really good team players.
"They were molded by me into being useful. They're not Wayne Rooney."
Cook did not wish to blame Tauranga City for their role with the players - preferring instead to use the situation as an example of widespread non-compliance and misunderstanding of the rules.
"That's not to cast any blame on Tauranga City. It is evidence of the mess of the system. The clubs throughout the region, not just Fury and not just Tauranga City, have no means to check on what players say.
"I think they [Tauranga City] could get fines. I know of other places where players have been here for three years and have played for various clubs - whole years for other clubs - before moving on and getting caught.
"The previous club doesn't appear to be in any trouble at all. It was actually Tauranga City's job to clear these players."
Cook was not optimistic about receiving a timely response to the appeal with some administrators already on holiday leave.
He was also following up with the Human Rights Commission, who he said have assured him that temporary migrants have a right to recreation and rest while in New Zealand.
The investigation was the result of Auckland Football receiving an incident report from Papakura FC. Assistance from New Zealand Football was then sought to clarify the status of the players involved.
Auckland Football CEO David Parker described the drawn out process as a "thorough process which safeguarded the interests of both clubs and preserved the integrity of the competition".
"We acknowledge this has been a lengthy process but, in the circumstances, both Auckland Football and New Zealand Football have done everything possible to reach an outcome as soon as possible," Parker said.
"Given what was at stake for both clubs and the Lotto NRFL competition itself, it was our responsibility to use every available resource to make a fully informed decision."
Auckland Football Federation communications manager Steven Upfold confirmed as a Fifa member association New Zealand Football is able to request information from its counterparts to check previous registrations.
"AFF requested New Zealand Football contact the home member associations/countries of birth of players who are not New Zealand citizens to ascertain whether they were previously registered with a club under their jurisdiction, and therefore require under Fifa Statutes an International Transfer Clearance (ITC) to transfer to and play for a club in New Zealand," Upfold wrote.
"There is a cost to obtaining an ITC, but only if one is found to be required. All players registered with an overseas club coming to NZ require an ITC before they can play."
Part of the delay was down to the Fifa rule allowing member associations 30 days to reply to each request of information, he said.
It is possible that the rules will be changed in the future.
"Regulations are regularly reconsidered and NZF, in consultation with Federations, may at any stage look at its intent and application.
"But until it is changed it is currently in place, and AFF's decision has to reflect and apply the current regulation as written.
"NZF will convene a panel to hear the appeal as soon as practicable in the New Year. All parties are aware that the clock continues to tick down to the start of the 2014 season."
Upfold chose to talk around whether Tauranga City United would be penalised in any way for fielding the same players.
"AFF has issued a decision, subject to appeal, on the protest arising from the Lotto NRFL play-off series."