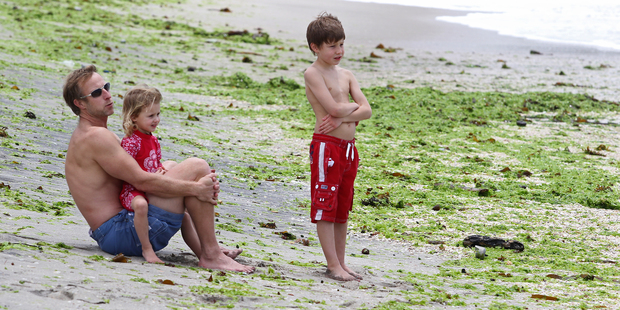 Kerry Scotson with son Jacob, 8, and daughter Lara, 3, were put off swimming at Mount Main Beach when they saw sea lettuce. Photo/John Borren
A green tinge has returned to Tauranga's coastline as sea lettuce invades the region's beaches.
The bloom has begun washing up at Mount Main Beach again after a big dumping in November and has been spotted in large amounts off the coast.
The Bay of Plenty Times yesterday reported large amounts of sea lettuce in the water around Papamoa caused races in the North Island Inflatable Rescue Boat Championships to be postponed over the weekend.
Tauranga City Council harbour parks co-ordinator Craig Fea said the council had received eight complaints about sea lettuce through the customer call centre so far this season.
He said there have been two separate clean-up operations so far this season, both along the harbour beach strip between Fergusson Park and Kulim Park.
"So far the problem has not been as bad as previous years but, with a hot dry summer forecasted, it is too early yet to make a proper comparison."
The sea lettuce is picked up using a modern, specifically designed hydraulic beach grooming machine imported from the United States.
Bay of Plenty Regional Council harbour programme co-ordinator Bruce Gardner said he had not heard any complaints about sea lettuce off Papamoa Beach, but was aware there had been a dumping on Mount Main Beach.
"It was the first significant sign of it on the main beach. We've already had a couple of clean ups within the harbour.
"The main problem on the beaches is primarily aesthetic, it's not particularly nice for people to swim in so people generally have to move out."
Mr Gardner said sea lettuce was more of a problem when it washed up on harbour beaches and rotted.
He said it was building up at Fergusson Park and towards Kulim Park, and a clean up operation would likely be needed before Christmas.
Rhys Arrowsmith, general manager of Tourism Bay of Plenty, said sea lettuce has had no negative effect on visitor numbers to the region.
Papamoa Surf Lifesaving Club patrol captain Shaun Smith said sea lettuce arriving on the beach was to do with the current, the tide and offshore holes. This all combined over the weekend.
"We really only get it once a year if we're lucky. It was just unlucky for us that the wind, the tide, the current and the rips outside the club all seemed to happen at once.
"All the lettuce seemed to congregate in two rips either side of the club house."
Kerry Scotson, a former Tauranga Boys' College student, was visiting Mount Maunganui with his family yesterday and was shocked at how green the sand and water were.
The main dumping was further along the beach towards Mauao and it cleared up closer to Leisure Island.
Mr Scotson said he would be taking his children further along the beach to swim where it was clearer.
This was the first time he had returned to Tauranga since the mid 1990s.