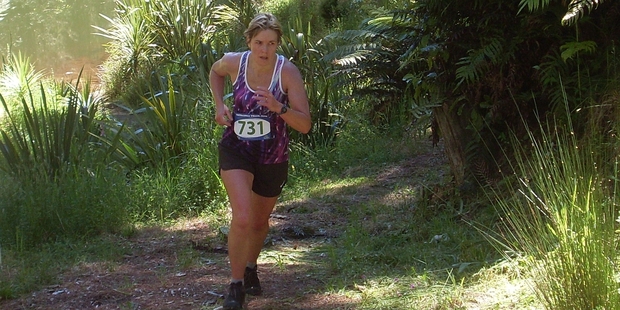 Young Whakatane athlete Sam Clark won the blue-ribbon 30km event at the annual Smiths Sports Shoes Tauranga Trail Run held at the TECT All Terrain Park on Sunday.
The 23-year-old Macpac-sponsored endurance athlete ran a time of 2.12.21 to beat Bobby Dean (2.13.21) and two-time local champion Russell Lake (2.13.35) after racing clear in the second of the two 15km laps.
Clark gave the rest of the field a 90-second head start after returning to his vehicle just moments before the gun to retrieve his hat and sunglasses for some on-course protection. He then set about reeling in the rest of the field. Once up with Lake, Dean and another local endurance specialist, Dwarne Farley (fourth, 2.19.30), Clark settled into a rhythm before making his move on lap two and setting a tempo the others could not stay with.
"I've just come from the Tour of Southland cycle race and have probably only run three or four times in the last couple of months," Clark said.
In October he was second to Richard Usher in the Motu Challenge multisport race, where both men went under Usher's previous race record.
Clark's next big adventure will be the envy of any serious endurance athlete. He is off to Belgium in April to have a crack at making it as a professional cyclist.
In the women's event, Anna Barrett eased away from ultra-distance expert Shannon-Leigh Litt to win by four minutes in 2.24.38. Roisin McQullan was third, a further three minutes behind Barrett.
Over 560 entrants were involved on Sunday, coming from as far away as Tahiti, but most were from the Bay of Plenty, Waikato and Auckland. The annual Tauranga Boys' College fundraiser helps subsidise travel and accommodation for the cross country team and event organiser Scott Furness paid tribute to the small army of Boys' College students, parents and staff who helped make the event the most successful so far.
"We had over 50 helpers at the park and it wouldn't happen without their efforts - many standing in the hot sun for hours as marshals."
The Bay of Plenty Times-sponsored 5km Family Fun Run/Walk proved to be a great drawcard. Some parents were able to race earlier in the day and then complete the 5km alongside their young children, with many youngsters getting the better of their parents. It was also a chance for different generations to be involved together, like the Lake family - three generations on different start lines with the grandparents breaking out the running shoes to get involved in the shorter distance. Young Oliver Brown upstaged all others by winning the 5km in 21.00 as an Under 12, with Megan Lake doing the same in the women's event (22.02).
Ben Marshall illustrated what the day is about, racing off from father Grant (head of the PE department at Boys' College) to win family bragging rights.
Results:
30km: Men: 1st Sam Clark (2.12.21), 2nd Bobby Dean (2.13.21), 3rd Russell Lake (2.13.35). Women: 1st Anna Barrett (2.46.38), 2nd Shannon-Leigh Litt (2.50.54), 3rd Roisin McQullan (2.53.50).
15km: Men: 1st David Sullivan (1.03.38), 2nd Roger Creighton (1.06.38), 3rd Todd Mardon (1.06.37). Women: 1st Michelle Pollard (1.21.08), 2nd Tracey Hay (1.21.17), 3rd Petra Creighton (1.22.21).
10km: Men: 1st Andy Wilson (40.15), 2nd Talon Sneddon (44.39), 3rd Scott Illingworth (44.52). Women: Emma Hyett (46.31 - 6th overall), 2nd Melissa Reid (49.44), 3rd Lyndy Wickham (52.06).
5km: Men: 1st Oliver Brown (21.00, Under 12), 2nd Mark Crowther (21.01), 3rd Andrew Creighton (21.21, Under 12). Women: 1st Sophie McConnell (23.27 Under 18), 2nd Lucy Farrell (23.42 Under 12), 3rd Arleah Tippins (24.22 Under 18).