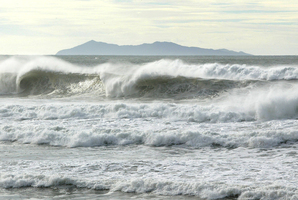 A suspected mini tsunami that surged onto Papamoa Beach over the weekend knocked a fisherman off his feet and washed up kontiki fishing lines.
Tauranga real estate salesman Grahame Lindsey was fishing with his kontiki at 5.30am on Saturday morning when he was rocked by a one metre high surge.
"It gave me the willies, it was quite scary," Mr Lindsey told the Bay of Plenty Times.
The surge at low tide swept up the beach to reach the high tide line, stayed for several minutes and then drained out in a big vacuum. It was up to the waist of a nearby surf caster and swept another fisherman off his feet.
"It was a hell of a volume of water. I have never seen anything like it, it was unbelievable."
Mr Lindsey said it did not behave like a freak wave because of the way the way remained up the beach for so long.
There was so much force that several kontiki lines washed up parallel to the beach and broke his line on his winch.
However the Bay of Plenty's Civil Defence emergency management group controller Clinton Naude said nothing was detected by GNS Science that could have contributed to a tsunami hitting Tauranga's coastline.
What was described would have needed a magnitude six distant source and GNS Science registered nothing that could have contributed to it.
"We would have still have picked it up on seismograph earthquake monitoring, even if it was a close-in source."
GNS Science have monitoring buoys that detect incoming tsunami and are linked to the Pacific Tsunami Warning Centre.
Mr Naude noted that some big swells were running in the weekend. He agreed the Mr Lindsey's description of the surge did sound like a tsunami.