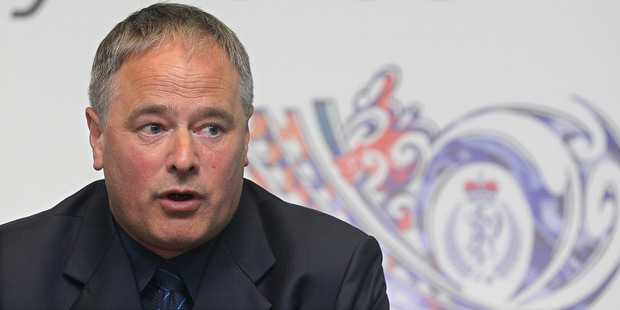 He has been described as a super sleuth and now Detective Inspector Mark Loper hopes to crack the 27-year-old mystery of the disappearance of Tauranga woman Luana Williams.
A review of the murder of Luana Deborah Laverne Williams began 18 months ago, and yesterday Mr Loper announced a $50,000 reward for information leading to her body or the conviction of those responsible for her death.
Ms Williams was aged 25 when she disappeared from her Gate Pa home on June 5, 1986.
A member of the public has provided police with new information but Mr Loper, pictured above, said he could not comment on specifics because it may jeopardise the investigation.
"A number of inquiries fell out of the review and, as we carried out those inquiries, we received information from members of the public which we are now actively pursuing. It is information that hasn't previously been brought to our attention and has taken the investigation in a different direction," he said.
Mr Loper told the Bay of Plenty Times he believed every case could be solved with time but he was modest about his "Mr Solve It" reputation.
"My role is to oversee homicide investigations and that includes cold cases," he said. "I review cold cases regularly and when cases get reviewed new information comes to light.
"Every file is different. It's not about me, it's about the victims and their families."
Mr Loper said time meant fresh eyes could look over cases and follow new leads.
Retired Detective Inspector Graham Bell said Mr Loper's reputation as a super sleuth was well founded.
"He certainly is a great detective, who has a reputation for solving cases."
Mr Bell had worked with Mr Loper on several occasions and described him as a "dedicated and dogged investigator".
"I have every confidence in him and his ability to solve this case."
In his role as Bay of Plenty field crime manager, Mr Loper headed the review of the murder of Rodney Edward Tahu outside a Turangi service station in 1979, which led to the arrest and conviction of Menzies Hallett this year.
In previous roles he led investigations into the death of Rotorua toddler Nia Glassie; an eight-month investigation into the death of Stephen Gorge, whose badly charred body was found in a burned-out Atiamuri house; and the theft of $10 million accidentally loaded into the bank account of Hui (Leo) Gao in Rotorua.
He was also part of the Rotorua team seconded to Auckland to investigate one of the country's biggest vice cases, the Peter Plumley-Walker affair. The body of the former cricket umpire with a fetish for bondage had been found tied up at the foot of Huka Falls.
Mr Loper has already left his mark on what is one of Tauranga's oldest mysteries by tracking down witnesses who have never before been spoken to.
"Every case has its own difficulties. For us we had to take the file and peel it back to the original," he said.
Mr Loper is leading a team of eight detectives working on the case.
A $20,000 reward offered in 1994 failed to draw out any helpful information but Mr Loper was optimistic about their chances this time.
"We know that over time allegiances and associations change. We know there may be people in the fringe group that may have information and they may be at this time willing to part with that information."
Ms Williams' boyfriend Steven Prole saw her about 6pm on the night she disappeared and arrived home in Munro St the next morning to find she was gone.