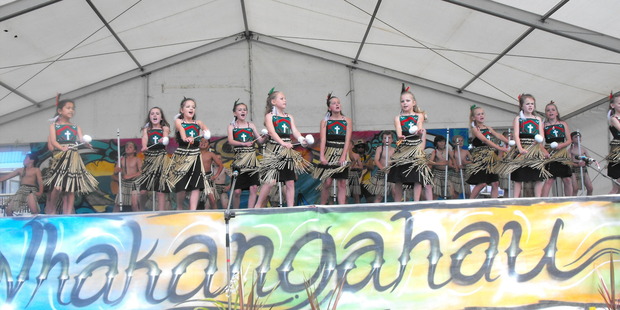 WHEN Wiki Bidois first came up with the concept of a Rawhakangahau (non-competitive) kapa haka festival, she must have seen it as much more than an opportunity to showcase Maori culture on a stage for local schools.
Twenty-one festivals down the track the annual Rawhakangahau attracted almost 50 school groups to Maramatanga Park in Te Puna last week, to stamp and chant, and sing and dance their way through the stories of Tauranga Moana.
Wiki, in her wisdom, purposefully made the event non-competitive so all schools, especially those who may not have the teachers or the students with the expertise or skills needed to perform kapa haka, could take part.
When I was a kid growing up in the middle-class Mount, we were fortunate to have Maori teachers like Harry Paniora, Ron Bryers and Mrs Te Tua, who sowed seeds of who we were, where we belonged and the place for us to stand _ our turangawaewae. And I thank them every day for that.
Kapa haka was not on the menu then and the All Whites had more chance of beating Mexico than I had of mastering kapa haka.
Fast forward 50 years and the same school, my alma mater Omanu, stood on stage at Rawhakangahau, loud and proud performing the stories about their turangawaewae.
The most moving part of watching Omanu School perform, as it was with Saint Mary's and many others, was the non-Maori tamariki going hard and giving it their very all; about their whakapapa (lineage) their stories of Tauranga Moana and their place to stand.
I could feel the wairua (spirit) that Wiki, in her wisdom, had planted the seed of some 21 short years before. There were seeds now blossoming into beautiful putiputi (flowers) _ in the form of confident kids, performing on stage in front of their peers and parents.
To see these non-Maori kids' parents with a trickle of boo hoo juice falling down their face like a melting moment of reconciliation, was moving in many ways.
It showed me/us that we are growing up fast as a culturally cool community and country, and if we continue to showcase and celebrate our culture (no matter what the cost) with events like Rawhakangahau and Gate Pa commemorations, then we can hold up a candle of hope for the rest of the world to follow.
The real gem in this jewel of finding a place for our tamariki to stand and perform is the confidence it gives them walking into a future that seems to be getting crazier by the day. A future where hopefully they will not be tempted by the Miley Cyrus-type antics to diminish their true potential _ with instant sound bites of stupidity, that can lead to consequences from which there can be no coming back.
If we build bridges of understanding between cultures, our children can walk over them and we as parents can follow.
Children don't carry the pre-conceived baggage that we have amassed as adults when it comes to the ``them and us'' barriers, built up over generations of apathy, ignorance and blame.
Blame is about as useful as a half-pai Cook Strait ferry when it comes to getting us to a better place of belonging.
So is ignorance, when we refuse to accept what has happened in the past and learn from it.
As we move closer to the cornerstone event that founded _ and some say alienated _ Tauranga Moana from tangata whenua _ the 150th commemoration of the Battle of Gate Pa, the importance of bridge building at every opportunity will help set the stage for a future where we can weed out the ragwort of them and pick up the putiputi of us.
All across Tauranga there are opportunities to engage with Maori culture and learn their stories.
Today the annual Raranga (weaving) exhibition starts at Te Wananga o Aotearoa at 60 Durham Street and runs until 8pm Wednesday.
This showcase of talent has similar seeds sown as the Rawhakangahau, in that many of the students are non-Maori and the ``them and us'' barriers left the building about a week after the course started.
Opportunities like Rawhakangahau and Raranga are taonga for our tamariki _ young and old, Maori and non-Maori, to learn from.
Awhi angels in the form of teachers and tutors such as Wiki should be applauded, for having the wisdom and hindsight to help make them happen.
_ broblack@xtra.co.nz