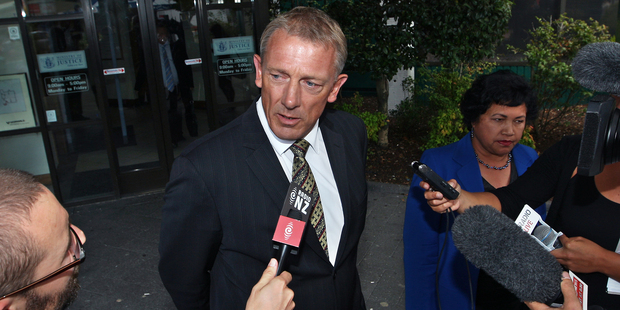 A high-profile Tauranga lawyer allegedly acted for a vulnerable teenage client the day after he had sex with her, a tribunal has been told.
Craig Horsley, 55, appeared before the Lawyers and Conveyancers Disciplinary Tribunal in Auckland yesterday to face allegations of "disgraceful and dishonourable" conduct and misleading the law standards committee.
Mr Horsley admitted lying to the committee on numerous occasions, first denying the relationship with the young woman and then lying about when their relationship began. He said he didn't want his wife to suspect the baby the teenager was pregnant with was his.
Dressed in a black suit and purple tie, Mr Horsley put his head in his hands and wept after confirming the affair had ended his marriage.
He was charged by the Canterbury Westland Standards Committee with entering into an inappropriate relationship with the teen while she was his client.
The charge was amended to one of acting as her lawyer "while in an intimate personal relationship" with her.
The amendment meant the case was adjourned to give counsel time to make further submissions.
Mr Horsley was represented by John Billington QC.
The tribunal was told that in June 2010, Mr Horsley met the teen at a Rotorua motel where they had sex for the first time. She was 18.
The next day, while she was driving to Tokoroa, she was involved in an accident and was charged with careless driving and driving with excess breath alcohol, the tribunal heard.
She contacted Mr Horsley from the police station and he went to pick her up.
Mr Horsley told the tribunal he did this "both as a friend and as a lawyer" but said there was "no guarantee" he would end up representing her in court.
The Crown put to him that he was clearly acting as her lawyer and giving her legal advice at the time.
He had represented her on previous occasions when she appeared before the youth court in 2008 and 2009.
Mr Horsley said he had viewed the teen as a "former client" and had not spoken to her for some time when she texted him to meet up for a coffee "out of the blue".
Things came to a head in August 2010 when she spotted him in the Tauranga Court one morning.
The tribunal was told she rushed at him and launched "expletive-laden abuse" and, in front of a busy court foyer, announced that she was pregnant and the baby was his.
The Crown argued that the relationship had triggered the woman - who prosecutor Michael Hodge described as "a very vulnerable person" - to go into a downward spiral.
He also argued that the affair had begun closer to January 2010 when she was facing a drink drive charge.
Mr Horsley admitted to sending the teen Christmas and birthday cards using "affectionate terms", and text messages of a similar nature, but said that was after June 2010.
The allegations surfaced last year when police investigated following concerns about the woman's age.
- APNZ