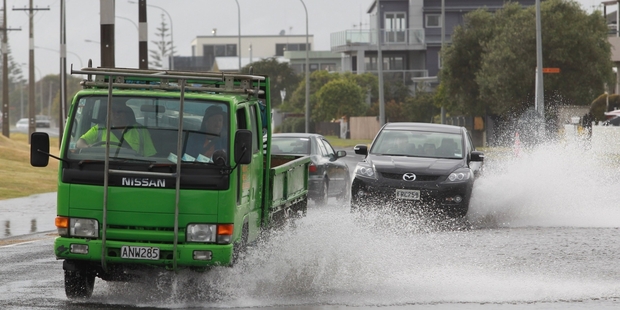 Heavy rain caused surface flooding around the city and slowed rush hour traffic yesterday.
MetService recorded 26mm of rain in Tauranga between midnight and noon.
Floodwaters spread right across Papamoa Beach Rd, just east of Domain Rd, causing traffic to be diverted.
Roading contractors said they had been monitoring the flooding and diverting traffic in Papamoa from 7.30-9am yesterday.
They had also been called to check Maleme St, Welcome Bay Rd and Dickson Rd.
A Tauranga City Council spokesman said Papamoa Beach Rd had not been officially closed.
"Despite flooding across the road, it remained open and passable for traffic.
"Our contractors report that they were about to close it but the water started to recede, so they left it open," he said.
The council received 13 weather related calls, which were all about surface flooding around the city.
Water across Maleme St was the only other notable event.
The council was also alerted to a tree that came down across the road at McLaren Falls Park.
In Te Puke, Queen St was down to one lane due to flooding for a short time. MetService was predicting another 25mm of rain in Tauranga during the 48 hours from midnight yesterday.
The forecast for today was for heavy showers easing towards evening, with light winds and a high of 19C.
Tomorrow and Saturday were predicted to be mostly fine, with the chance of showers and sea breezes. Temperatures were expected to rise for the weekend, with a high of 24C on Saturday and 25C on Sunday.
The heavy rain comes after Tauranga recorded its third driest October on record.
A total of 15mm of rain fell during the entire month, only 17 per cent of the average for that time of year.