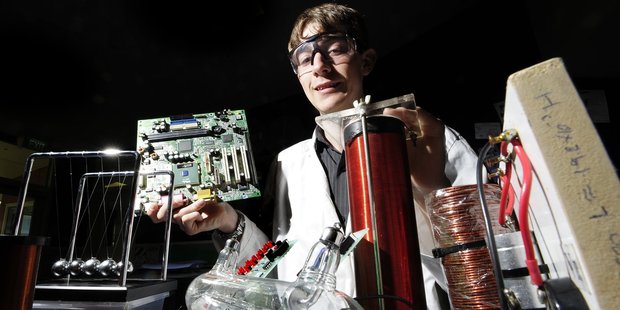 Seventeen-year-old Daniel Hughes is sitting five NCEA scholarship exams - even though he already passed three of them last year. The Aquinas College student is a maths and science whizz kid who passed most of his NCEA Level 3 subjects while still in Year 12.
Next week, Mr Hughes will be sitting calculus, physics, statistics, chemistry and French scholarship level exams, plus chemistry and French level 3 exams. He passed his other subjects last year.
Mr Hughes, a Pyes Pa resident, also passed three of the scholarship exams last year, but is resitting them to see if he can do any better.
"For me, maths and science just clicks," Mr Hughes said. "I don't have to study for hours on end. Once I get it, I've got it and I don't have to go over it.
"I've had science books that I've been reading since I was young. It all just came from reading and working it out from there."
Both of Mr Hughes' parents are very proud of him, he said.
"They're both very happy and very supportive of me too.
"I think I got my brains from both of them, they're both intelligent and did quite well at school."
He spent the beginning of this year completing two university papers which will give him a head start when he begins studying physics and maths at the University of Auckland next year.
Mr Hughes will complete his degree in three years, all paid for by a University of Auckland Scholarship. For Mr Hughes, science and maths have always been a passion, although he also enjoys music and plays badminton.
"I've known pretty much since I started secondary school that that's what I wanted to do."
"My dream goal is to be an astroparticle physicist at CERN (European Organization for Nuclear Research) in Geneva.
"I'd like to do my PhD overseas, hopefully in Europe, then from there I should be able to get into CERN."
Studying French will also help him in Geneva, although Mr Hughes said this was not an educated choice.
"It was the main language taught at school, it was just convenient that it happened to be the language spoken in Geneva."
Tauranga Boys' College student Todd Harris is also sitting five Scholarship papers - chemistry, physics, economics, maths with statistics, and earth and space science.