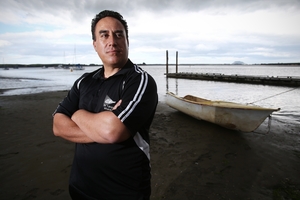 This week's newsmaker is Rangi Ahipene, from Te Tuinga Whanau Support Services Trust, who combines traditional fishing techniques and Maori art.
1 Tell us a bit about yourself.
I live in Omokoroa with my wife and two young daughters and have done for nearly 15 years now. I have three older sons with two [having] passed away. I was born and raised in Mangakino before studying Maori art in Rotorua.
Nine years later I moved to sunny Tauranga. I love fishing, Maori culture, languages, Maori and wider history and business development. I would love to see an improvement for Maori people socially and economically. I have many tribal affiliations but my main one being Ngati Tuwharetoa.
2 How and when did you start working with young people?
I attended a Worktrack programme for WINZ, I was cheeky and told the facilitator that I could do his job, so he called my bluff and I facilitated a part of the programme.
He was pleasantly surprised with my performance. About two years later he rang me with a job opportunity with youth for a private training establishment, I went for the interview and got the job.
3 How has this grown?
I worked with that job for three years before working for the YMCA facilitating firstly the Conservation Corps programme then the SYSCO [programme for youth offenders]. When those programmes ceased locally I worked as an alternative education tutor for four years with two of those years at the infamous "Black Stump" [orchard] facility. I then worked a year for the Kiwi Can programme before being headhunted to work for a local trust as an alternative education tutor. After a year, I was shoulder tapped to take on the Supported Bail programme and this is my fourth year.
4 How do traditional fishing techniques and Maori art help?
Firstly they are natural activities that young people (especially young Maori males) are drawn to. I also have a passion for these things that inspires the young people to participate. Not in the least, it connects young people to their deeper spiritual Maori heritage (for non Maori the Maori perspective offers universal principles and values) which they consciously or unconsciously crave. Plus the rewards are tangible and can be life changing.
5 Why do you think the traditional aspect of what you do works?
Other than what I have said above, we have gone so far with technology that these things are so different, still relevant they are COOL!
6 Where (or who) did you learn these skills from?
Self taught, except with my art; I did four years Contemporary Maori Art.
7 What do you think is the biggest problem facing young people?
Negative messages by society, international media and dysfunctional norms set by their families and peers, disengagement with who they truly are.
8 What keeps you motivated to continue doing what you do?
A passion for passing on knowledge to our young people.
9 What kind of support does your work get and from who?
Government contracts, public and private donations.
10 What are your plans for the future?
To run my own programme(s) and expand them nationally.