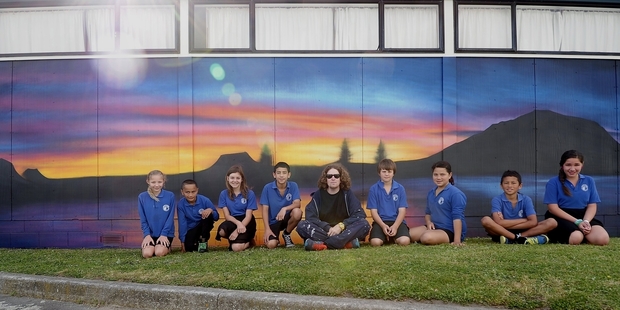 A landscape of five mountains now proudly marks the entrance to Arataki School in honour of its jubilee celebrations.
The mural, painted by Tauranga artist Owen Dippie depicts five local mountains which the school's syndicate teams are named after - Mauao, Hopukiore (Mt Drury), Kopukairoa, Mangatawa and Hikurangi.
"That's something really special for Arataki School," principal Dene Langley said. "I'm really stoked with it, Owen did a wonderful job.
"He is a real role model for the young children for this sort of art work."
Mr Langley thought this was Dippie's first scenery picture as he usually painted people.
"He was a bit reluctant at first, but was pleased with the result.
"The kids think it's fabulous, they've been out there just about every day to watch the progress.
"It's been interesting to see the number of cars that stop to have a look."
The school is having its 50th anniversary celebrations next weekend. Mr Langley said Dippie was approached about doing a mural as part of the celebrations. The school had also planted a garden to mark the occasion.