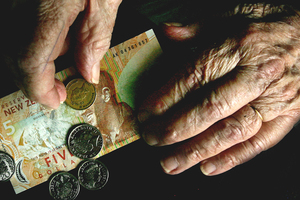 I was alarmed to read that increasing instances of financial abuse against the elderly have prompted calls for the establishment of a commissioner with the legal power to intervene.
The fact many agencies now feel the problem is so widespread that elderly now need to be protected from money-hungry relatives raises serious questions about where our society is heading.
According to Statistics New Zealand, the country's population aged 65 and over has doubled since the early 1980s and is likely to double again by 2040.
The annual number of confirmed abuse cases handled by Age Concern increased from 515 in 2006/07 to 583 in 2010/11.
In the same period, the proportion of cases of financial abuse rose from 27 per cent to 35 per cent. However, these numbers are thought to represent only a fraction of the problem.
CCS Disability Action is now calling for the compulsory security screening of people working with children - proposed in the Vulnerable Children Bill - to be extended to those working with vulnerable adults.
The Government is also being urged to establish an aged care commissioner, who would have the legal power to tackle the financial abuse.
Support agencies say the problem is further compounded by the introduction of new home loan restrictions which have first-home buyers running to their grandparents for deposits.
Let's be clear, it's not the deposit scheme that's at fault. It's us.
Rampant materialism combined with a prevailing perception that the best way to obtain the latest mod con is to borrow rather than save for it is at the heart of this issue.
Unlike previous generations who took pride in making their own way through life by living frugally, we now have a culture that equates self-worth with material possessions to a point where the latest flat-screen TV or a deposit on a home is, in some twisted way, more valuable than a vulnerable relative.