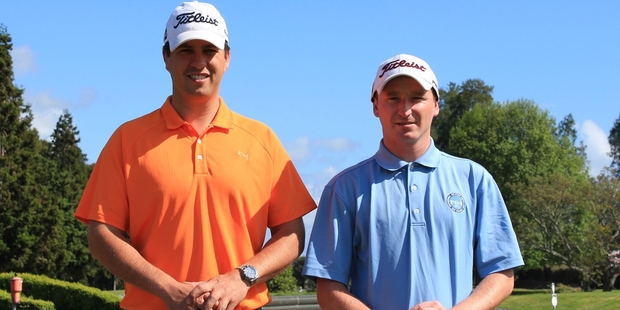 With golf club memberships generally stagnating, the Te Puke Golf Club is keen to attract young players to the game.
The club is offering free memberships to schoolchildren and has begun free coaching clinics every Tuesday from 4pm-5pm with head professional Nick Davey and new trainee professional Reuben Macnamara. The sessions have been attracting 10-25 players each week but the club wants to increase the numbers to start a Sunday juniors day.
"We would love to get that number up to 30-plus and get into a position whereby we can split the players up into groups of different abilities, so kids can learn easier," Macnamara said.
He recently arrived from Christchurch club Waitikiri.
"I want to run a golf academy for junior players," he said. "I have been lucky enough to do a lot of coaching with juniors in the year I have been training and love creating great experiences for the kids so they enjoy the game."
To encourage more players of different ages to play, the club has a 20/20 special that involves a 15-minute lesson and a round of 18 holes for $40.
"The course is in fantastic condition and it's empty a lot of the time, so we want to see that change," said Macnamara.
Head pro Davey said the lack of junior golfers had been a concern to him. "We are trying to grow the game here as much as we can," he said. "We have only had a handful of juniors here in the last few years. They have been successful with the Hillier brothers but we would love to get 50 kids out here at least. They are the future of our golf club but there is a bit of a gap there at the moment."
Club manager Scott Evans said positive work had been done with building relationships with Te Puke schools.
"Last school holidays we ran a holiday programme for the first time, two mornings each of the two weeks," he said.
"Nick [Davey] ran a garage sale recently that raised close to $1000 for the juniors. This will go toward some more junior clubs, including a left-handed set.
"We are trying to source a minivan to assist in the transport of the school kids. Te Puke Primary is hosting a tournament on Sunday, November 24, to raise funds for a school van. Golf Te Puke has gifted them the course for the day, as we know going forward the school can then provide transport for the kids to come and play golf.
"The event is a four-man ambrose and if anyone is interested in playing they can contact the school to enter."
The Te Puke Golf Club is on State Highway 2 in Paengaroa, just south of Te Puke. Bookings are essential for the 20/20 special.