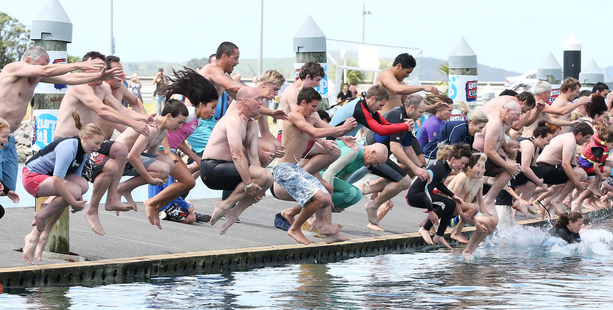 Hundreds of people turned out to help create the world record for a mass dive-bomb yesterday.
Tauranga Boys' College Student Louis Gordon, who organised the event, said he was amazed at how well it went.
The 14-year-old said he wanted to set or break a world record and after doing some research, he found there was no current record for a mass dive-bomb.
His aim was to get as many people as possible to do a bomb into the water at Tauranga Bridge Marina, but for the team at Guinness World Records to take him seriously, he was told he needed at least 100 people to take part.
Louis said there was 232 people who registered for the event yesterday.
"It couldn't have gone better," he said.
"The whole thing was really great. As well as all the people who took part there was another hundred or so who were on the shore taking pictures and videos."
He said the youngest person who took part was 4 and the oldest was 67.
"They was a wide range of people there, I was just blown away."
Louis said he would have to compile all the information from the event and submit it to Guinness World Records, he will then hear back in four to six weeks whether the event has made it into the record books.
"They told us we needed more than 100 people and we smashed that, so I think we should be pretty safe to claim the record," he said.
"I really want to thank everyone who came down. Not just those who took part but everyone who supported the event as well. It just couldn't have been better."
Louis doesn't have any more plans to break other records but said he wanted to focus on making the occasion an annual event.
"We could try and do it each year and it would just get bigger and better, it would also mean we have a better chance of keeping the record in Tauranga."
In a bid to collect as much information about the event as possible, Louis is asking people to send in their photos and videos. Any pictures or video can be emailed to klgregory@mediaworks.co.nz.