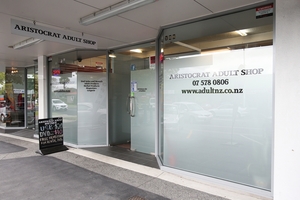 The number of retailers granted licences to sell synthetic cannabis in the Western Bay of Plenty has doubled since the Government introduced new legislation two months ago.
In August, A Tease Adult Shop, DVX Tauranga and Katikati's Bamboo Barn gained Ministry of Health approval to sell the product as part of the new Psychoactive Substances Act 2013.
Today, the Bay of Plenty Times can reveal Curiosity, Aristocrat Adult Shop and Ink Culture Tattoo, which closed down last month, have also received licences to sell.
Already Aristocrat has encountered demand from potential black market buyers.
Owner John McCoy said he did not sell much of the product "because we turn a lot of people away".
"We get a lot of people coming in wanting to buy in bulk and discount."
Mr McCoy said those people only came in once, yet there was a significant number of people trying. "It must be going on out there when they come in and ask for a discount," he said.
Aristocrat is a member of the Psychoactive Industry Training Association (PITA), an industry body formed after the passing of the Act in July to establish a commitment to industry excellence.
As a member, Mr McCoy has agreed the store will not sell to minors, not advertise, not sell at discount, not bulk-sell or giveaway the product in promotions or competitions.
"We won't even say it's safe."
Mr McCoy said the store applied for the licence because it had regular customers and "they would prefer to come to us than a tinny house".
The owner of Curiosity, who would not be named, said she was probably selling less product these days after a gradual drop in demand but business was steady.
"I did think we would sell more once the dairies stopped selling but not so much now," the woman said.
"Years ago I used to sell heaps of it."
The former owner of Ink Culture Tattoo Studio, who spoke on the condition he was only known as Marc, said the decision to apply for the licence was purely financial.
"It was making good money and we needed that for the business to survive at the time," Marc said.
"It does make very good money but it's pretty crazy stuff. You can see the deterioration of the customers. It's quite nasty. I wouldn't touch it. I wouldn't want my children touching it."
Ink Culture Tattoo Studio has since closed for personal reasons and it was unlikely the licence would now be used, he said.
Marc said demand for the product was quite high and if it was used in moderation it would be fine, "just like alcohol".
"If people could just drink normally, that would be okay too but people don't know how to do it."
Eleven retailers from the Western Bay applied for licences, including Te Puke store Puff 2 Go which was targeted in a community protest in August.