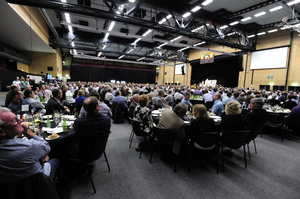 Seven local charities will benefit from the record amount of money raised from the annual Tauranga Police CIB Charitable Trust luncheon.
More than $250,000 will be handed out to various charities as a reult of the luncheon.
Cheques will be handed over to the Tauranga recipients, including $80,000 to Tauranga Coastguard, and $80,000 to Foundation for Youth Development (FYD).
The Trust received 50 applicants for support this year, with the seven selected being the highest number of beneficiaries in a single year.

The luncheon, in its 19th year, was a sellout again and attracted 1300 guests who raised a record $280,000.
Organiser Detective Sergeant Pete Blackwell said he was thrilled with the outcome of this year's event.
"This is an amazing effort. Our best total in 19 years, which means we'll certainly be making a difference in our local community again."

Tauranga Special Olympics will receive $22,500 and Papamoa Surf Club $25,000.
Te Puke, Welcome Bay and Beachhaven Community Centres will gain $22,500 each and $5000 will also go to Mount Intermediate for its help during the event.

More than $1.9 million has been raised over the 19 year history of the Trust and its annual luncheons.
It is also the third consecutive year that's seen more than a quarter of a million dollars raised.
"Many are saying this year's luncheon was the best yet," Mr Blackwell said.
"This is very satisfying for our small team that works 12 months of the year preparing.

"Sky Sport editor Scotty 'Sumo' Stevenson who presented the event was brilliant, and so was our speaker, rugby star, Peter FitzSimons. But what really sums up this event is the generosity of the attendees who really understand what its all about."

A groceries voucher worth $7500 sold for $9500 and was then gifted by the buyer to the local Foodbank.
"That for me just sums it all up. It's about amazing acts of kindness from many of our local supporters."
More than $18,000 was raised from cash donations put in jars in the middle of all the tables.

The seven charities will receive their cheques in front of a gathering at the Tauranga Central Police Station at 5pm tomorrow.