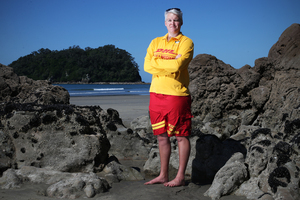 Two German men who became stranded on an island when they floated out to sea on a log have prompted the first warning from lifeguards ahead of this year's summer season.
Lifeguards begin patrolling Bay of Plenty's coastline this weekend, marking the first instalment of this summer's red and yellow flags.
But rescue duties have already begun, with the recovery of two men trapped on Motuatao (Rabbit) Island.
Omanu Beach Surf Lifesaving Club member Leah Scown was training in a surf boat with other members of her team on Thursday when they noticed two men on the island waving out to them.
"These guys were looking stressed out," she said.
Ms Scown said the men, aged 18 and 20, explained in broken English how they thought it would be fun to float to the island on the log.
However, they could not float out again because the tide had come in and they were stranded.
They had left on the log about 1pm, Ms Scown said.
It was about 6.15pm when they were found.
Ms Scown and the others rowed the men about 600 metres back to shore, where they were dropped off and walked away.
The men, who showed no signs of hypothermia or injury, were lucky, she said.
"It's a concern that there were two German guys who floated on a log out to Rabbit Island from the main beach," Ms Scown said. "Our coastlines do look safe but there are dangers as well that aren't so obvious - rips, currents, people just need to be aware of where the flagged areas are."
Mount Maunganui, Omanu and Papamoa would be among the first beaches in the Surf Lifesaving New Zealand Eastern Region to be patrolled from this weekend.
Club development officer Scott Bicknell said international visitors featured highly in rescues and preventative actions.
"I guess sometimes it's hard because for us, red and yellow flags are in our culture, but for an international person that's not necessarily the case.
"In some countries, a flagged area would be perceived to be a private area.
"So obviously it's a challenge, getting them accustomed to that."
Nippers or junior surf programmes also begin from next week. People can contact their local surf club or speak to a lifeguard for more information.