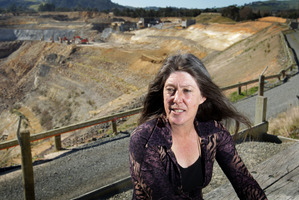 The prospect of a lifetime of living on top of a working gold mine is driving Waihi residents out of town.
Newmont Waihi Gold last week received final consent from the Environment Court to mine underneath a residential area which they call the Correnso Extensions Potential Project Area.
Newmont Waihi Gold general manager Glen Grindlay said the company reached agreement on a set of conditions with all appellants during recent court assisted mediation.
Waihi East Ratepayers Group secretary Roger Wainhouse is one of about 40 people who own a house on land directly above where mining will take place.
Some residents would move as soon as mining begun, he said.
"For my wife and I personally there's no point in staying in Waihi because the same thing could happen wherever we decided to go.
"We don't want to go through this again. We'll be going to some little provincial town.
We just want to be funded for a similar home in a similar town."
The mining company had agreed to buy homes above the mine at market value.
A fund of $19,500 had also been set aside to help residents pay for legal costs, moving costs and to compensate them for the inconvenience.
Waihi West resident and Distressed Residents Action Team spokeswoman Collette Spalding said she would also be affected by the decision despite living on the other side of town. She could no longer see a future in Waihi and feared it was also scaring potential residents away.
House prices throughout the town had been affected but those on the edge of the area to be mined were worst off as they would not receive compensation from the mining company.
Newmont Waihi Gold external affairs co-ordinator Kit Wilson said house prices did fall after big projects like the mine expansion, but they eventually bounced back.
Newmont was funding community projects to increase values, he said.
These included a $400,000 project which insulated nearly 300 houses in the area, a programme putting $200,000 a year into the community for the life of the mine, giving more than $100,000 to the local school allowing them to employ more teaching staff, giving money to daycares and playcentres, and monetary compensation of up to $4000 to residents affected by shaking and noise.
Mr Wilson said if the mine were to leave the town, 400 jobs would go, which would have a much more serious impact on property values than the Correnso Extensions Potential Project Area announcement.