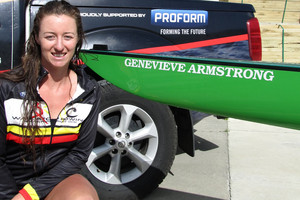 There are not many New Zealand rowers who have a brand new rowing skiff emblazoned with their name but Genevieve Armstrong is one of three to get the honour.
Armstrong is a Tauranga Rowing Club graduate now based in Cambridge at the High Performance Centre for Rowing. She was part of the New Zealand Women's Quadruple Scull team that competed at the rowing world championships held in South Korea in August.
She was honoured at a ceremony in Cambridge on Thursday alongside Tyson Williams and Rotorua's Julia Edward.
Armstrong says it is a massive honour to have one of the new training boats named after her.
"Waikato RPC [Regional Performance Centre] has managed to get some funding to enable us to get some new boats which is a pretty special thing because it is kind of hard to come by these days," Armstrong said.
"They just decided to have some of the names of the current New Zealand athletes on the boats which is really cool. We didn't really expect it as you think you would be retired. I'd be quite surprised if I got one before Mahe Drysdale!
"We have quite a big squad so it is great to have the boats for the younger rowers who can see the likes of myself and Julia Edward continuing to pursue our careers and everything.
"We can still be a part of what they are starting off in. I don't get to use them at the moment because I am training out of the New Zealand shed. But I will get to use them when I'm training for the nationals which will be nice."
Armstrong acknowledges the continued support that she and the other former Tauranga Rowing Club members based in Cambridge get from their old club.
"They like to check in what we are doing and every now and then we get a chance to go over to the prizegiving and get to meet all the newbies there. It is quite tricky now because we are separated but I still row for Tauranga Rowing Club."
Armstrong has a busy summer coming up preparing for the big regattas in 2014.
"We are training with the summer squad at the moment under [coach] Dick Tonks and we have a pretty full-on summer ahead. We have had three weeks and we are already pretty exhausted so we have kicked off straight back into it.
"The main things for us coming up are some regattas in December, then nationals and trials in February and March then we will see what happens for the next winter and what crews we are in.
"The world champs will be in Amsterdam in August which is the bigger goal for this season.
"Obviously the long-term goal is the Rio Olympics which are always in the back of your mind but there are lots of little steps along the way and goals we need to achieve first."