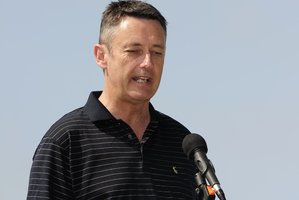 Tauranga's mayor is back - just - and seven of the city's 10 new councillors are fresh faces to the job.
The shake-up is the biggest in more than 20 years and far exceeded what many people expected.
A 35 per cent voter turn-out was lower than the 2010 election's disappointing 43 per cent, but those who did take the time to exercise their democratic right made it clear it was time for change.
For me, the biggest surprises were Mayor Stuart Crosby slipping from a comfortable 13,000-vote margin over second-placed Murray Guy in 2010, to clinging to the mayoral chains by fewer than 600 votes ahead of newcomer Kelvin Clout.
And David Stewart, who has served two terms as deputy mayor, not making the cut in the Mount Maunganui/Papamoa Ward, falling more than 1000 votes behind new councillor Steve Morris.
The surprises continued with stalwart councillors Bill Faulkner, Murray Guy and Wayne Moultrie being given their marching orders in favour of fresh blood.
The two most promising aspects of the new council are that it features three women instead of one, and the number of younger councillors has been increased by three.
Without even entering the chamber, the new line-up looks better set to reflect our city's population and future.
I've criticised a few of the council's decisions this year - the latest being not to give left-over funding from the street gardens budget to the Battle of Gate Pa commemorations, freeing up funds for the alcohol-free youth music festival Summerfest.
It's hard to know if this kind of frugal decision - or the city's large debt - were the catalysts for change but, however they got there, I only hope the new councillors are committed to a brighter, more vibrant future for Tauranga.
Growth requires investment and Tauranga is desperately in need of some if it's to capitalise on its natural assets and avoid falling further behind other cities.
I hope this group of unknowns makes the difference the city needs.