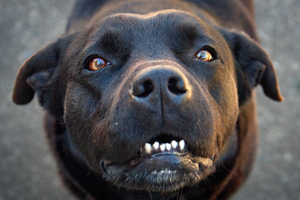 A barking labrador-cross keeping neighbours awake has been offered a new lease on life after the city council gave the owner 30 days to remove it from her property.
Baxta's barking has kept neighbours awake since his "master" Clint died and ownership transferred to his wife Kathryn Edwards last year.
Mrs Edwards told the council's hearings committee yesterday she would probably have to put Baxta down because all her friends lived in town and she did not know anyone in the countryside she could ask to have him. But in a bid to give her and the council's animal-control staff time to find a rural home for Baxta, the councillors delayed the order to remove him from Mrs Edwards' Maungatapu Rd home.
The decision was welcomed by one of the complainants, Brent Adler, who said Baxta had been "a real pain" and his non-stop barking kept neighbours awake: "He probably just needs to be rehoused - it's a nice-enough dog. He needs someone who can exercise him."
Mr Adler said the delayed-removal order sounded a good solution. "We would not like to see him put down."
The hearing was told the first complaint was received on May 22, last year, followed by 13 complaints from three residents.
Animal-services team leader Brent Lincoln said that each time the council acted on a complaint there was a respite in the barking, only for it to resume soon after. A final warning was issued on August 8 this year and after two more complaints a removal notice was issued on August 27.
Mrs Edwards appealed in an email on September 18, saying she could not understand where this was coming from. She said Baxta was a dog that barked if he did not know someone well.
"It is only in the last two years that we have had this problem since my husband passed away. I do not believe Baxta is a problem. I have done everything you have asked me to. I think the person or persons that have gone to you have the problem."
Mrs Edwards told the hearing she felt responsible but did not know what to do. Baxta barked at cats and did not like anything on his territory. She did not walk him because he was too strong for her, although she did play with him: "I want to keep the peace, so if he has to go, he has to go ... I have tried everything."
She said her only option was to put him down.
"It will be sad, I know that, but I can't cope with all this," she said as her voice broke. "This is stressing me to the max."
Some reasons why dogs bark
*Defending their territory
*Seeking attention
*Excessive stress or boredom
*Separation anxiety
*Fear or physical discomfort
*Communicating with other dogs
Can you help Baxta?
Anyone interested in adopting Baxta can ring Brent Lincoln at the Tauranga City Council, 5777000