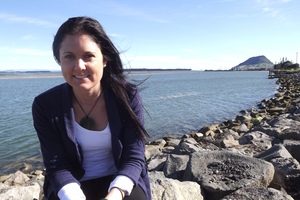 A Tauranga student who was a volunteer for the Rena response has won a scholarship to America.
University of Waikato doctoral student Sarah Lockwood has been awarded a Fulbright New Zealand Travel Award to speak at a US conference next year about her research into how youth volunteers organise themselves during a crisis.
Miss Lockwood is focussing on Rena as one example to understand why and how youth volunteers organise themselves and communicate when crisis strikes.
She said the opportunity to travel to the US was significant because there had been so little research in this particular field.
"The bulk of research is based in the US so it will be interesting for them to hear the New Zealand perspective and to collaborate on what we have learnt."
Miss Lockwood's research into the Rena response has found that GenY (aged 16-29) volunteers were motivated, enthusiastic and innovative, and responded in unique ways, often away from the confines of official response efforts.
"As a GenY volunteer during the Rena crisis myself, I was in a unique position to find out directly from other GenY volunteers what this form of crisis volunteering meant, and how their social networking, use of technology and speed, impacted the way they responded," she said.
"Youth are naturally spontaneous and socially connected so things often get done more quickly. This kind of response is well suited to the changing and unpredictable demands experienced during crises."
Miss Lockwood said this could also present challenges and tensions between youth volunteers and official response parties, as flexible responses are not always conducive with necessary crisis procedures such as Health and Safety.
"As a result, youth volunteers are not mentioned in Civil Defence Emergency Management policies throughout the world, despite global evidence of their effective response efforts."
Miss Lockwood said she hoped her research would inform local government how to better utilize GenY volunteers so that communities could more effectively respond to crises.
She said part of this research would involve working alongside others in the US who witnessed similar GenY responses following Hurricanes Katrina and Sandy.
As part of the scholarship Miss Lockwood will travel to Chicago in November 2014 to speak at the National Communications Association Convention and will also visit a number of universities to collaborate on research.
As well as her Fulbright Scholarship, Miss Lockwood has been awarded a Claude McCarthy Fellowship which will help fund her US speaking tour.
The Fulbright Program promotes collaboration between US academics and professionals and their counterparts around the world.