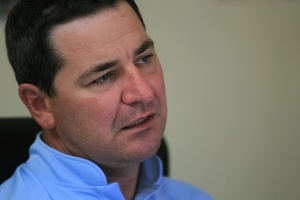 A 42 per cent increase in fraud with increases in theft and burglary have contributed to a small rise in crime in the Western Bay, figures show.
Police crime statistics released yesterday show a 0.3 per cent rise in the total reported crime in the area for the 2012/2013 financial year. This follows a 17.4 per cent decrease at the same time last year.
"Whilst we would always like to see year-on-year reductions, it has been difficult to build on such a large reduction from the previous year," Western Bay area commander Inspector Clifford Paxton said.
"It is pleasing to see, however, that much of that reduction has been sustained."
The 42.2 per cent rise in fraud and deception offences was the largest increase in the Western Bay followed by dangerous or negligent acts with a 32.3 per cent rise.
Acting area commander Inspector Karl Wright-St Clair said an increase in fraud often related to the prosecution of one or two people who had committed a large number of offences.
"It's not an area that we are particularly concerned about," he said.
Burglaries increased 4.9 per cent compared to last year and theft was up by 4.8 per cent.
Mr Paxton said those two areas remained a challenge through the period and the increases could be attributed to a small number of motivated offenders.
A number of those offenders had since been dealt with and police were seeing reductions in the two areas, he said.
It was also pleasing to see the number of homicides drop from six in the 2011/2012 year to one in the past year given the "trauma and grief" such incidents brought to families and communities, he added.
A large drop in public order offences could be put down to strong partnerships between police, hospitality businesses and the local liquor-licensing industry, he said.
The resolution rate for the Western Bay was 55.2 per cent.
Mr Paxton said he was happy with the results achieved in what has been a relatively challenging environment.
In the wider Bay of Plenty district the total reported crime fell by 3.5 per cent when compared with last year.
Western Bay crime statistics (year ending June 2013)
Going up
* Dangerous or negligent acts - up 32.3 per cent
* Fraud/deception - up 42.2 per cent
* Robbery/extortion - up 9.3 per cent
Going down
* Homicide - down 83.3 per cent
* Public order - down 19.9 per cent
* Weapons offences - down 6 per cent