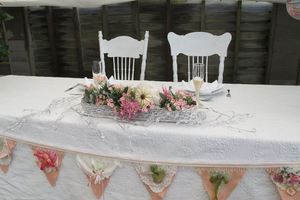 These days a couple of guests keep turning up uninvited to weddings - Facebook and Twitter, writes Annemarie Quill
Social media was not on the guest list at Kelly Knight's wedding last November and she is one of a growing number of Bay brides setting rules around this on their wedding day.
"We told our guests that we had a professional photographer and that if people could please refrain from taking photos, as we did not want it to affect any lighting ... we also asked that nothing be uploaded to Facebook, Twitter, or Instagram. This was something Richmond and I wanted. We were leaving the country the following day and didn't think social media should see our photos prior to us."
Social media is changing a ritual that's mostly about the bride and groom to an event that potentially cedes control to anyone with a smartphone. On a day planned down to the finest detail, social media allow for random acts of mindlessness.
Wedding websites and magazines now include tips for dealing with well-meaning tweeters, stalkerish iPhone sharers, giddy Facebook posters or irrepressible Instagrammers.
Some couples embrace technology with gusto, while others wonder how to keep their vows from going viral. Social media are the new "plus one" at weddings, causing couples to consider how to manage the technology so that friends and relatives don't morph into Guestzillas.
Tauranga bride Anna* also booked a professional photographer for her wedding. But the photographer wasn't the only one with a camera. "I was shocked on my wedding day when I walked down the aisle to find guests with their phones up taking photos.
"It had never crossed my mind that people would even consider doing such a thing. I was disappointed. We had a professional photographer there. It is their job to take the photos and they can't do that properly if there are flashes from other peoples cameras going off."
Michelle Fa'aui got married at the Olive Tree last October. Fa'aui was surprised when she saw her wedding photos online that very night - put there by other guests.
Anna had not thought of the impact of social media on weddings but now says she would definitely recommend future couples ditch social media on their wedding days.
A survey by the largest US bridal retailer, David's Bridal, showed almost six in 10 newlywed women said it's crucial to have social media rules at a wedding. Slightly more than half said the bride and groom must be the first to post wedding photos to a social media site.
And six in 10 brides admitted they'd forbidden bridesmaids from uploading photos of them in their gowns before the ceremony.
Tauranga wedding celebrant Aaron Blomfield has done celebrity weddings where smartphones and cameras have been banned and guests have had to sign a non-disclosure form. However, this is now becoming an issue for non-celebrity couples, and Blomfield recently did a wedding where he had to intervene to control the cameras.
"All the guests turned up with professional cameras. It seriously looked like the paparazzi had turned up in force.
"The couple wanted me to make a carefully worded announcement as follows:
"Peter and Jessie invite you to be fully present with them today and share this experience with them with your eyes and your heart rather than your lens."
Knight also made the announcement banning uploading of photos via her celebrant.
"Our celebrant said it at the beginning of the ceremony, he made it into a bit of a joke so it was more relaxed, and our guests respected this."
Tauranga marriage celebrant Debbie Hunt says most couple don't even think of this before the ceremony.
"Fair enough as they are busy arranging other things." But Hunt says it is important to consider the impact of social media.
"I always check with my couples if they would like me to mention prior to the ceremony that photos can be taken but not posted."
Tauranga wedding planner Amy McKeown says it is becoming the norm for a celebrant to request for all guests to please, out of respect for the couple, not post anything on any media until the couple have done it themselves.
"It is something that I make my couples more aware of now as, unfortunately, for a lot of people it is second nature to instantly post something on social media without even thinking how it could affect a couple who might be paying thousands for a photographer."
Bay wedding stylist Sarah Manwell says she is starting to think that smartphones should be banned at weddings.
"It is too easy for guests these days to take inappropriate photos/videos of the nuptials before the bride and groom are ready to share. It's their day."
Blomfield says some take a more relaxed approach to social media.
"In the olden days, about five years ago, it was a thing to put disposable cameras on the table and everyone was encouraged to snap away, print them off and send them back to the couple.
Social media is just an extension of that, and it's set up so that the couple can untag themselves or even ask for the pics to be removed if they don't like them.
"I'm all for guests Facebooking and tweeting on the wedding day if they want to do that. It's just sharing good times.
"Most of the brides I have worked with haven't given it a thought I guess because it's a part of everyday life and communication.
"The only thing I would say is be tactful about when you post.
"If you're too busy adding filters and lux (instagram's nerdy name for contrast) and thinking of something witty to post while the action is taking place you're missing out, and it looks a tad rude."
Given that technology is here to stay, it could be an option to embrace it.
One popular wedding website suggests that if the bride struggles with not updating her status on the hour, she designate a "tweeter of honour".
Manwell says this could work.
"A tweeter or Facebooker of honour is quite a cool idea actually. It would work well for those overseas guests that couldn't make it."
For those couples fully including technology in the wedding, they can even livestream their wedding to friends or relatives unable to attend. People can observe the ceremony and even toast back instantly via Skype.
Some couples even take time at the altar to change their Facebook status from "engaged" to "married". Tauranga wedding photographer Sharnelle van der Heyden - who photographed Knight's and Fa'aui's weddings, uploads one official photo of the bride and groom to her Facebook page at the end of the night.
"Social media is a great way to keep friends and family in touch, especially for those who are unable make it to such a monumental day. Photos are your memories and moments captured for you to treasure - I'm always proud to post an image or two online for my clients to see and share with their loved ones.
"Of course, I will always ask if they'd like me to post an image online for them to see and if they'd like to keep them private. I respect that, too."
Perhaps the easiest way to avoid dramas with social media on the big day is to choose a venue out of cellphone reach, like remote vintage venue the Old Forest School in Pongakawa, where the owners say it's an added attraction that phones don't work.
"Our booked couples are over the moon that phones won't ring, people won't be constantly checking in and that photos of their day won't be posted until well after the event!"
- Additional reporting by AP
* Name changed to protect privacy