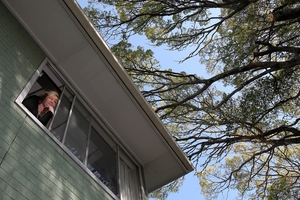 A Tauranga woman who refused to hand over branches she cut from a protected tree on her property to the council says she has been made to feel like a criminal.
Motelier Catherine Thompson said she removed the branches from a Camphor Laurel tree on her Fraser St property, concerned the tree was damaging her home.
The large tree is protected under the Tauranga City Council Notable Trees Register, meaning resource consent is needed for any modification to it.
"I knew that council had made it Notable but I personally don't believe it should be," Ms Thompson said. "And it was hitting my house, getting tangled up in my electrical wiring and frightening the hell out of me."
Ms Thompson said she had already made two submissions to council to remove the tree's Notable status but they were rejected. She was doubtful another submission would help and on September 15 asked a friend to remove the branches.
The next day, council staff visited the property and informed Ms Thompson the actions were illegal and asked for the branches so they could assess a "limb value".
Ms Thompson refused.
"I was within my rights. I asked them to get it in writing, what they wanted to do."
On Thursday this week, Ms Thompson received an email advising that council staff, with assistance from police, would perform a search warrant on her property.
"They are making criminals out of ordinary people," she said.
"My mum was prepared to be arrested."
Ms Thompson said if the tree had fallen on her house, she would have been responsible for cleaning it up and paying for repairs. She questioned why she could not have the same responsibility to modify it to protect her home.
"It's a joke. It's only the council's tree when they want it to be."
Ms Thompson's mother Margaret Buchanan, 79, bought the property in 1991 with the intention of removing the tree at a later date - as it was not protected.
The change in the tree's status in 1996 was not notified to the family, Ms Thompson said.
The family contacted councillor Murray Guy, member of the tree management sub-committee, who said he asked council staff to wait until a meeting could be held between all parties.
Cr Guy said he was informed yesterday the warrant would be held off until a meeting, which was scheduled for Monday.
Fellow sub-committee member and councillor Terry Molloy said council reduced the city's mature tree stocks on private land because of issues with residents. But this reduction meant it was important to protect the trees "as much as reasonably possible".
"We are generally prepared to work with anyone who has a problem," Cr Molloy said.
"I'm sure we could have found a way to come to a positive conclusion for both parties."
A Tauranga City Council spokesman would not comment on the matter while it was an ongoing investigation.