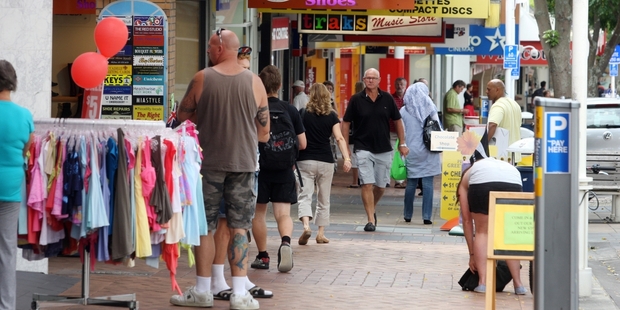 Older people wearing distinctive jackets could become the new go-to people for tourists and cruise ship passengers walking around Tauranga.
The suggestion by Trish Hanlen from the National Council of Women was one of the talking points at yesterday's public submissions on the council's age-friendly strategy.
Ms Hanlen was inspired by the green jackets worn by older people in the Irish city of Limerick who walked around answering questions from tourists.
She said a similar scheme could be introduced in Tauranga in which visitors and cruise ship passengers could gravitate to people wearing easily identifiable jackets.
When she was in the downtown's Red Square on White Ribbon Day, tourists asked her where the main street was.
Submissions dealt with the importance of the strategy as increasing number of baby boomers reach retirement.
Gold Card holders already comprise nearly 20 per cent of Tauranga's population and are predicted to reach 25 per cent by 2031.
Ms Hanlen said people now aged between 65 and 100 were the pioneers of the hippie generation and their parents. She said the extensive resources and life skills of this age group needed to be valued and integrated into the community, not only as volunteers but in other ways such as business mentors.
"The older generation usually like to be invited and encouraged to participate in affordable community activities.
"We know that loneliness, particularly of people on their own, is a big problem in this city. The recently reported national suicide rates among older men aged over 85 is also a concern."
Ms Hanlen wants the council to work in partnership with developers to ensure that smaller pensioner housing is incorporated into new developments so that not everyone is forced into retirement villages.
"Many people want to be around children, to watch them grow and develop, when their own family has moved away.
"Other people want to be involved in the wider community and not in a community that is closed off from the hustle and bustle of everyday life. Mixed housing alternatives benefit the whole community," she said.
Another submitter, John Burns, was concerned that the age-friendly strategy did not adequately deal with evacuating the 600 high needs people living in Tauranga if a natural disaster struck.
A plan was needed to evacuate and receive these people into an existing facility like Melrose Day Care, he said.
Ric Balfour from the Tauranga YMCA complained that the high rentals for council facilities was making it difficult to keep prices affordable for its age-friendly fitness classes.
He said the YMCA was working with ACC to find a strategy to reduce the barriers of entry fees to its fitness programmes.
For instance, he said, it cost $2000 a fortnight to hire a classroom-sized space in the building at Papamoa's Gordon Spratt Reserve - two or three times higher than equivalent facilities in other New Zealand centres.
Mr Balfour also said that Tauranga's lack of a museum clearly demonstrated the low value put on the city's history. A museum showcased the history of the area and provided opportunities for seniors to help interpret the cultural and natural history.
Max Lewis from the Elders' Forum called for elder-friendly exercise equipment to be installed into some city parks and walkways. It could range from a simple exerciser for arthritic fingers to balancing frames for people with hip problems.
Most of the equipment was made from wood and could be a project for the Men's Shed and service clubs, he said.