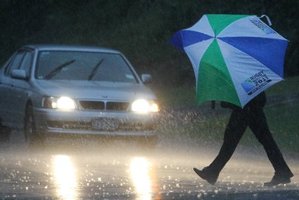 Sour weather brought on by a "mean low'' over the North Island will be in full force by this afternoon.
Much of the North Island has been slapped with severe weather warnings and watches, with Northland already seeing the beginning of the wet and windy conditions expected over the next two days.
MetService meteorologist Dan Corbett said the bad weather was expected to hit Northland, Auckland and Coromandel by this afternoon.
Wind speeds could reach up to 130km/h in the three regions - placing them on a severe wind warning.
Eastern Waikato residents have also been warned to expect "potentially dangerous'' gusts by this evening.
"The rain will just start to become more steady and persistent,'' Mr Corbett said.
"The drive home in places like Auckland will be just yucky.
"It's a mean low'' which created a risk of flooding and beach erosion, he said.
Poor weather was likely to continue through most of tomorrow, but as the winds are mainly from the tropics, day-time temperatures in the upper half of the North Island should remain around 16C.
"Through Wednesday, the heavy persistent rain starts to become a bit more patchy and showery.
"It will start to wind down as we go through the day on Thursday, and by Friday we can all hang the washing out,'' Mr Corbett said.