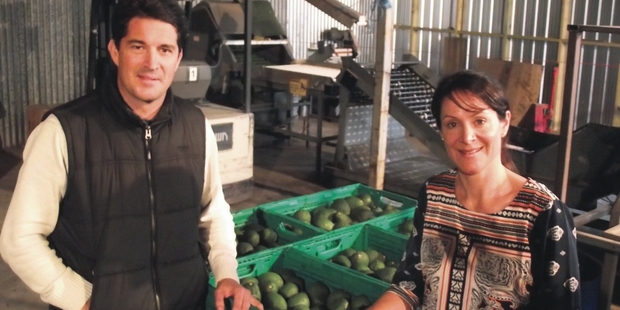 A Te Puke fresh produce marketing company is intensifying its efforts to win over exporting avocado growers for the growing domestic market.
Pole to Pole Fresh last week hired a new procurement specialist, Megan Unsworth, to up the ante in the quest for larger volumes of avocados for local consumers.
Managing director Todd Abrahams said Mrs Unsworth would be targeting the more than 60 per cent of avocado growers in New Zealand with orchards of less than four hectares.
"There's so many small growers out there who have lost interest in that export market. It's too complicated, there's too many compliance rules and too many costs. They'd rather keep it simple and go with a domestic marketer and domestic packer and those are the guys we want."
However, Alistair Young, a director of the newly-formed exporting partnership Avoco, doesn't get Mr Abrahams argument.
"All growing costs are increasing across the board but in order to supply the New Zealand market correctly and safely, you need to have virtually all the systems in place you would have for export anyway."
The only additional cost incurred was an export registration fee which was hundreds, rather than thousands, of dollars, Mr Young said.
While he acknowledged demand for avocados in New Zealand was increasing, Mr Young said the size of the domestic crop was generally determined by the size of the total crop. Most growers sent their best avocados to export (about 75 per cent) and sent the rest to the domestic market.
"On my own orchard, I do a combination of local market and export marketing so that I get the best of both worlds."
Mr Abrahams said while the Avoco partnership did look like a good way for exporters to move forward, it did little for the many small-scale growers who were the "backbone of the New Zealand avocado industry".
"The feedback we receive from this grower base is that export compliance costs are increasing and it is no longer economically viable to grow avocados on a small-to-medium scale for export.
"When supplying the New Zealand market, growers get paid in a matter of weeks, compare this to exporting where growers are made to wait for over three-to-six months to be paid. Growers have bills to pay and supplying the New Zealand market makes it easier for them to run their orchards," he said.
New Zealand Avocado chief executive Jen Scoular said growers should focus on ensuring all consumers got safe food.
"To optimise return from their avocado business, we would encourage growers to make their fruit available for the export and New Zealand market. Yes, this means they need to meet the industry standards that are in place to meet the high demand of consumers offshore. But surely fruit available for the New Zealand consumer should also meet those standards."