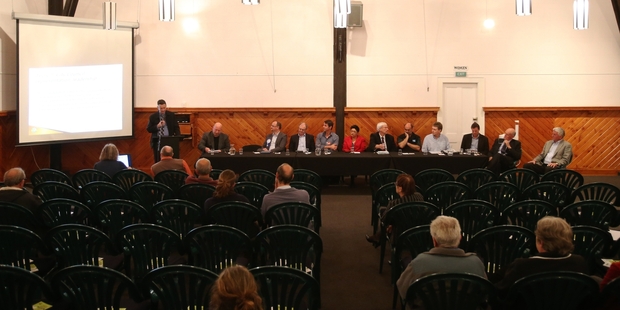 Candidates nearly outnumbered the audience at such a poorly attended city council election meeting last night that organiser, Multicultural Tauranga president Ewa Fenn, apologised.
The 12 mayoral and council candidates looked out to a smattering of faces in the Tauranga Historic Village hall, where the audience of 15 included partners of candidates and candidates who were not invited to speak.
It followed the low turnout to Monday's public meeting for mayoral candidates organised by the Tauranga Chamber of Commerce where the predominantly retired audience of 160 highlighted how most of the chamber's 700 members had opted to stay away.
Last night's turnout was underlined by audience member and Bay of Plenty Regional Council candidate Ian McLean when he said the low number was evidence of a complete lack of engagement by the community in the elections, particularly the ethnic and migrant residents that Multicultural Tauranga had tried to attract.
Barry Reid, who chaired the meeting, said afterwards that invitations had been sent out to the organisation's 72 individual members and 30 groups.
Mount Maunganui/Papamoa Ward candidate Clayton Mitchell put the apathy down to things not being tough enough for people to care.
"When things get really bad, then people will turn up."
Mount/Papamoa ward and mayoral candidate Richard Moore said it was infuriating for candidates to come out and then be ignored by the general public.
"Something has to be done, it is ridiculous."
He said the council was the closest form of government to the people of Tauranga because of the effect council decisions had on their lives. "We all want good debate."
Another Mount/Papamoa candidate and sitting councillor David Stewart put the poor turnout down to the lack of a big issue.
"If people are unhappy with the council then they turn up. Unless there is a problem, people will not come."
Mr Stewart said things had changed over the years and he no longer expected halls to be filled unless there was a problem. People were also communicating differently, such as over the internet.
"We need to be more innovative."
Mayor Stuart Crosby said the laissez-faire attitude to election meetings was a national trend which he partly blamed on education.
He believed schools should be teaching civic responsibility and democracy to children from a very young age. "It has never been done to my knowledge."
Mr Crosby said the low returns of voting papers was linked to the three different elections going on at the same time, using two different voting systems. "People give up - it is not user friendly."