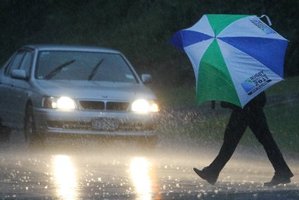 The wild storm that has been pounding much of the country over the past few days has now reached the upper North Island with weather warnings for various places including the Bay of Plenty.
However, MetService forecaster Daniel Corbett said the storm was easing.
"It's losing a lot of its bark and its bite that it had over the last 24 to 48 hours.''
The "back edge" of the front, that brought savage winds and heavy rain to the South Island and lower North Island, was now in Manawatu and over the Central Plateau.
Rain had just reached Auckland and extended west to Taranaki, Mr Corbett said.
"There still are some stronger winds ... across some eastern areas - Gisborne and Hawkes Bay.
"But those are a far cry from what they were through the night.''
Winds in Wellington had eased to about half the strength they were yesterday, Mr Corbett said.
Rain warnings were in place for Taihape through to Taupo, he said.
"Also the Eastern Bay of Plenty - they'll get some heavy rain through later this morning and the afternoon.''
The Tauranga Council Council said there was a standard storm response protocol which kicked into action whenever a heavy rain warning was issued.
Before the rain arrives the council's stormwater and roading contractors check and clear debris from about 100 stormwater grates at 60 specified locations around the city, as well as from 36 beach and dune stormwater outlets.
These checks are repeated after the rain event to unblock anything that the rain has washed in during the storm.
During the storm contractors and council staff out in the field keep a close watch on conditions during every heavy weather event.
Every call from the public is logged and actions are sent to contractors so they can respond where they are needed. A team of council staff are on standby, ready to be mobilised to help co-ordinate the response if the situation escalates.
When flooding occurs sandbags are available which people can request by phoning the council call centre.
However, if it is an emergency you should always phone 111.
The council suggests residents can do their bit by keeping an eye on the road gutters their area.
The caouncil is also warinng people to not sweep leaves off their own property onto the road as it can create a blockage and potential flooding issue for someone else.