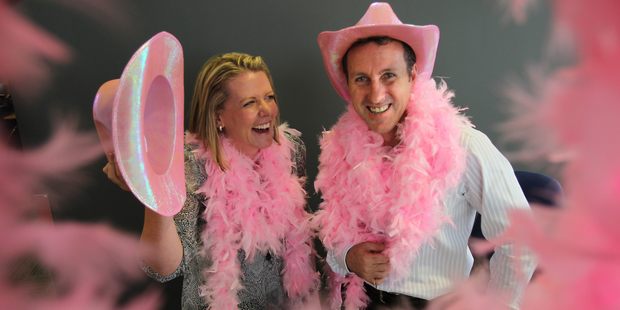 For the first time men and families will be welcomed with open arms at Tauranga's annual "pink walk".
Celebrating its 11th year the traditionally women-only walk has always attracted a few pink-clad men in tutus and wigs but more recently the partners and children of women who have died from breast cancer have also opted to come along.
Organiser Allison Stewart said the walk, which raises money for Tauranga Breast Cancer Support Service, was a celebration of life and a chance for everyone, including men and children, to remember those that had gone.
"They'll be welcomed with open arms this year."
Meanwhile, House of Travel Tauranga will also replace ASB Bank as the main sponsor of the flagship fundraiser.
House of Travel Tauranga owner Shane Kennedy said the store had a proud history of supporting the community and becoming the main sponsor of the annual walk was a "really nice moment".
The walk has been renamed the HOT (House of Travel) Pink Walk. Mr Kennedy said breast cancer survivors showed determination to succeed and celebrated the joy of life.
The event is the service's main fundraiser, as it has no affiliation with the more well known and resourced New Zealand Breast Cancer Foundation. All proceeds stay in the Bay to help local women.
Service co-ordinator Lea Lehndorf said the event was a celebration for women who had survived breast cancer, an inspiration for those recently diagnosed, a gathering of support for families, and an outreach to the community.
Tauranga Breast Cancer Support Service connects local survivors with women newly diagnosed with breast cancer.
"It's a different kind of empathy than what someone else can offer. It's quite different from friends and family," Ms Lehndorf said.
For the past 10 years Iris Thomas has organised the event but handed the role back to the support service and Ms Stewart, shortly before suffering a brain aneurysm.