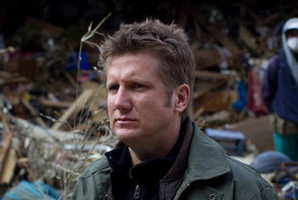 A Tauranga journalist detained in an Egyptian jail for five days without charge has been released, and is set to arrive in Bali today to be reunited with his wife and four children.
Wayne Hay, 40, a former Television New Zealand journalist and Tauranga Boys' College student, was one of four television crew members arrested by Egyptian authorities last Tuesday while covering a political rally in Cairo for Arabic television network Al Jazeera.
Mr Hay, who had worked for the network since 2006, resigned about four weeks ago but was doing some extra freelance work for Al Jazeera in Cairo under contract. He and his three colleagues were deported on Sunday and flown to London.
His arrest followed the detention of other Al Jazeera journalists in recent weeks, with the network accused by authorities of favouring the Muslim Brotherhood.
Mr Hay's parents, Sandy and Patricia Hay, live in Tauranga as does his older sister Jacqui and her husband who own a Peugeot dealership.
Sandy Hay told the Bay of Plenty Times that he and his wife received the good news from their daughter-in-law Nikki Hay who phoned them from Bali at 3am yesterday.
"It's such a huge relief. Wayne was planning to come back to New Zealand later this month, and I'm not sure whether he will now bring their return date forward," he said.
Mr Hay, now safe in London, is set to fly to Kuala Lumpur then on to Bali today to be reunited with his wife and their four children aged 2 to 11. Mr Hay senior said he was still waiting to speak to his son to hear more about his detention and release, and in terms of his future plans he has several job offers to consider.
His wife Nikki Hay last night told this newspaper that she had spoken to her "exhausted" husband by cellphone the day after he was arrested, and again as he flew to London.
"The kids and I have also spoken to Wayne by Skype after he arrived in London which was very exciting for us and it's such a huge relief knowing he's safe. He seems in good spirits considering what he and his crew have been through," she said.
"Wayne told me the most frightening part was when they were all blind-folded and driven all around Cairo ... and it was also very scary when they first got to the jail not knowing where they were and what was going to happen to them. Luckily they let them all stay together in the same cell, and were given some food and drink."
Nikki said it had been a scary time for the family.
"I had to work really hard to keep myself together as much as possible for the children's sake."
Mrs Hay said she and her children could not wait for her husband to arrive in Bali today, so they could take him to the beach for a relaxing surf.