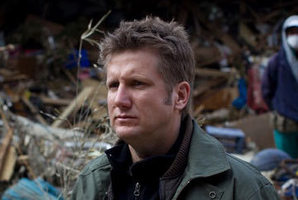 A New Zealand journalist has been freed from an Egyptian jail after being detained for five days without charge.
Al Jazeera correspondent Wayne Hay, formerly a TVNZ reporter and presenter, was arrested with three colleagues while covering events in Cairo on Tuesday.
Mr Hay is originally from Tauranga and was a student at Tauranga Boys' College.
Their arrests followed the detainment of correspondent Abdullah al-Shami, who was arrested after the raid of the pro-Morsi sit-in at Rabaa al-Adawiya on August 14, along with Mohamed Badr, a cameraman for Al Jazeera's Arabic channel Mubasher Misr, who has been held for more than a month.
The network called for Egyptian authorities to release its staff unconditionally along with their belongings and equipment.
It said there had been a campaign against Al Jazeera, as the channel's offices were raided last month with security forces seizing equipment which was yet to be returned.
A post on the Al Jazeera website said Mr Hay, cameraman Adil Bradlow and producers Russ Finn and Mohammed Baher were freed yesterday afternoon.
Security officials at Cairo airport said Mr Hay and his colleagues were deported to London, Radio New Zealand reported.
They were forced to leave their equipment behind.
An Al Jazeera spokesperson told RNZ they were not given a reason for their detention.
Al Jazeera thanked all those who helped the group, especially the New Zealand, South African and Irish embassies in the Egyptian capital.
The network said three other employees were still being detained.
Mr Hay's sister-in-law Sandy Eves-Glass said it was brilliant to wake to news of his release today.
She told TVNZ's Breakfast show the last week had been a "nightmare'' for Hay's wife Nicky and their children.
Mr Hay had told his wife he and his colleagues had been treated well during their detention, Ms Eves-Glass said.
"They've had food, they've had water - obviously harrowing times, but they are OK.''
Mr Hay and his family were going to come back to New Zealand, via a holiday in Bali, Ms Eves-Glass said.
Prime Minister John Key told the programme Mr Hay's detention showed the level of danger some journalists exposed themselves to.
New Zealand's embassy in Egypt would be "very pleased'' with the the journalist's release, he said.