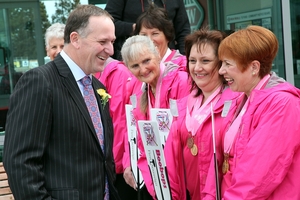 It was a day of plaque unveiling, smiles and waves, as Prime Minister John Key visited Te Puke.
Yesterday, Mr Key visited residents and staff at Te Puke's Vincent House, a training centre that helps people with mental illness and trains them in a craft. He took a tour of the factory, where residents create art frames to sell, before being given morning tea.
Manager Jack Smith said the prime minister's visit would be of significant positive impact on residents.
At the new New World supermarket site in Jocelyn St, pre-schoolers and children from Fairhaven School sang for Mr Key, Bay of Plenty MP Tony Ryall, Tauranga MP Simon Bridges, Rotorua MP Todd McClay and Western Bay of Plenty MP Ross Paterson as the Te Puke kiwifruit mascot danced along.
Dressed in pink, members of the Boobops breast-cancer dragon-boat team formed a guard of honour with their paddles for Mr Key as he unveiled the supermarket's plaque for the opening.
Boobops captain Jude Butler said they were honoured to take part.
Mr Key told the crowd how much he enjoyed shopping in supermarkets, before venturing inside to help out as a temporary checkout operator.
He was then taken on a tour around Te Puke's inter-generational playground, through the cultural courtyard and heritage walkway into Jellicoe St.
Te Puke community board chairwoman Karyl Gunn explained the creation of the park, where the PM shot hoops with children and stopped for "selfie" photographs with teenagers. Mr Key then joined Mayor Ross Paterson in opening the refurbished Te Puke Library, where he spoke of the importance of libraries in the digital age.
A fascinated pre-schooler who was taken with Mr Key's media attention asked the prime minister, "Are you Spiderman?" to which he replied he wished he was.
After a community lunch and meeting with kiwifruit growers, Mr Key was welcomed by a powhiri at Te Puke Intermediate School.
Mr Key told students about his career, and his secondary choices of being a butcher or pilot if his first choice didn't work out.
"When I was 12, I told people I wanted to be prime minister and they used to laugh. When I was 20, I told people I wanted to be prime minister and they laughed even harder.
"When I was 40, I told people I wanted to be prime minister and they still laughed.
"When I was 46 ... they didn't laugh because I was prime minister," he said.
"So do what you want to do. There will be lots of people telling you you can't make it but if you stick with it and work really hard, you can."
Principal Jill Weldon said it was a special opportunity for children to meet the leader of the country, which was something not many children had the chance to do.
Mr Key said he was in Te Puke as part of his community engagement.