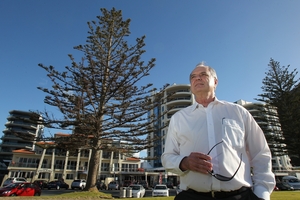 Stunned Marine Parade residents will be queuing up to vent their anger when the Tauranga City Council makes a final decision to allow freedom campers to park up along the eastern end of the prime beachfront road.
Mount councillor David Stewart has been inundated by emails and calls from furious residents living along the Banks Ave to Oceanbeach Rd section of Marine Parade.
He said they were far from happy with the council's compromise decision to ban freedom campers during the busy summer season from December 1 to February 8, but allow them to stay for up to two nights for the other 10 months of the year.
Cr Stewart, who lives on the section of Marine Parade from which freedom campers have been banned permanently, wants a year-round ban imposed on the rest of the road.
He has carried out a mail drop setting out options for residents leading up to the September 16 council meeting when a final decision will be made on the council's freedom camping bylaw.
"There will be heaps of very irritated residents wanting to speak in the public forum."
Cr Stewart estimated there were up to 500 residents who faced the prospect of living opposite rows of motor homes in the angle carparks.
Judging by anecdotal evidence of what happened when highly desirable areas of Nelson and Coromandel were opened up to motor homers, he expected that they would descend on Marine Parade in their droves.
He said that carparks filled up along all of Marine Parade whenever there were nice warm days, regardless of whether it was the peak summer holiday period. Allowing freedom campers to park up for two days had the potential to reduce hugely the number of parks for everyone else.
Carparks were at a premium over long weekends such as Easter and Labour Weekend. "To allow motor homes to come in and take up that excess is not a fair go."
Cr Stewart warned the council would be receiving complaints 24 hours a day from residents and others unhappy with the motor homes, with potential rates implications if extra monitoring officers were needed to handle the situation.
"It will be a nightmare trying to monitor it ... do we really want to turn it into a motor home camping ground, it will look awful."