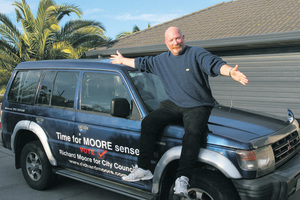 Rules preventing Tauranga City Council candidates from plastering their cars with election signs prior to September 14 could be reversed next week.
Mayor Stuart Crosby has joined councillor Murray Guy in seeking to clarify a grey area in the rules on whether signs on cars and buses should be exempt from the September 14 date when candidate signs are allowed to start sprouting around the city.
Cr Guy intends to raise the issue at Monday's council meeting, arguing the focus of the council's election review two years ago had been on the proliferation of unsightly and damaged signs.
He was the mover behind the council's unanimous decision in 2011 to reduce the time limit for election signs from six weeks to four weeks - a week before voting papers were sent out.
Cr Guy said the target had been free-standing signs in public places and he never imagined that it would capture candidate Matt Cowley's election sign on the back of a Bay Hopper bus, or candidates who drove signwritten cars around town on their legitimate daily business.
He was not seeking to repeal the rule that prevented cars with election signs parking up for long periods of time on the sides of busy roads. "The current interpretation of the rules is clearly unfair except where the cars are parked up for long periods of time."
Looking back on the decision to shorten the period for signs, he said: "It may have been better to have left it as it stood."
Mr Crosby said he saw no problem with candidates going about their normal daily business in signwritten cars prior to September 14. Parking up cars for the purpose of advertising was different. "I agree it is a grey area and maybe we should have a discussion"
However, if the advice was that it was black and white, then the council should not interfere with the independence of the returning officer's jurisdiction.
Mayoral candidate Richard Moore said he never bothered to remove the signwriting from his car since the 2010 elections, and had never heard from the council.
He never deliberately parked up to catch the eye of passing motorists and said he would not be pleased if, after all these years, the council asked him to remove the signs off his car. "If they had a problem with it, I should have heard much earlier than this."
Mr Cowley said he thought in good faith that a sign on a bus would not be covered by the council's election signs policies, believing the rules were to avoid the unsightly "gorilla marketing tactics" of streetside signs.
A sign on a bus was not littering the city nor creating visual pollution, he said. "It is how the word 'signs' are interpreted. They are silent on signs on vehicles."
He was yesterday arranging to temporarily remove the reference to voting on his Bay Hopper bus sign.
He joins council candidates Mike Baker and Gail McIntosh who have blanked out some of the words on their signwritten cars.
The word "vote" still remains on Mr Baker's car although he was told leaving it was pushing the boundaries. He will not remove "vote" until he receives a directive. He admitted to again parking up in Turret Rd for a couple of hours. "All I got was waves and toots. No one showed up from the council."
Cr Baker's problems over his signwritten car featured in Thursday's Bay of Plenty Times and the issue written about in an editorial by Annemarie Quill in yesterday's edition.
Ms McIntosh has masked out all the wording that referred to voting after hearing from the deputy returning officer Yvonne Tatton on Thursday.
She will continue to park up on the sides of roads. "I am speechless about the whole damn thing."
In another frustration, she said Baypark's management took a $3000 booking from her and Mike Baker for an election sign on one of the billboards on the outside of the stadium but then pulled the plug because of the council policy that said election signs were not allowed on land, buildings and structures owned or administered by the council. The exception was road reserves.
"They don't want our money - and you wonder why the council is in strife."